Grilled Marinated Peppers With Burrata and Breadcrumbs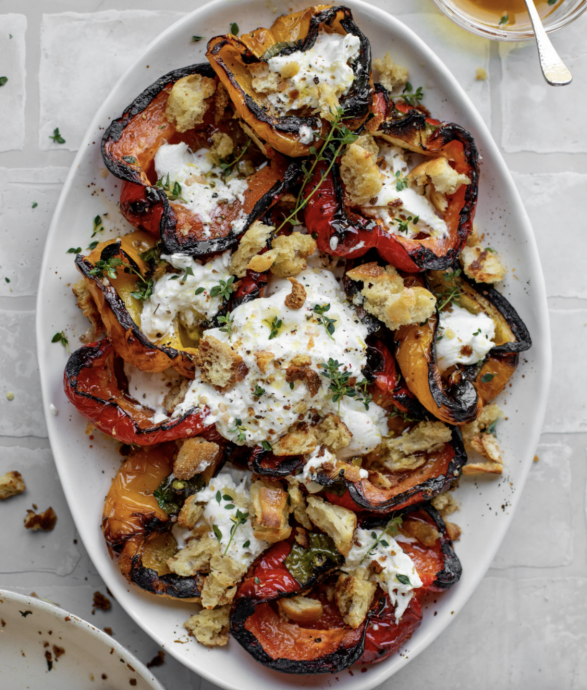 These grilled peppers are life changing!
If you adore all things tart and briney like I do, you will just flip over these peppers! They are grilled first, then covered in a delicious vinaigrette.
And then! We stuff them with burrata cheese and obviously all is right in the world. The grilled marinated peppers are almost better than roasted red peppers. We have so many jars in our pantry because they are one of our favorite food – we use them in pasta, on pizza, to make sauce – everything.
These are just as good! Probably better. The smokiness from the grill adds so much flavor that you'll want to put these on everything too.There are a few different ways you can serve this. If you're making it at home for a summery snack or dinner, make it like this. Keep the peppers whole, throw some burrata and breadcrumbs inside and enjoy with a knife and fork.
If you want to make this for a party or a pool snack, like a gathering with friends where it could be more of an appetizer, slice the peppers. Throw the sliced peppers on a plate with the vinaigrette and cover with a ball of burrata. Serve it with slices of sourdough instead of the crumbs.
The dish is super versatile.
Ingredients:
4 bell peppers
salt and pepper
olive oil spray or for drizzling
2 tablespoons red wine vinegar
2 garlic cloves, minced
pinch crushed red pepper flakes
⅓ cup olive oil
3 slices sourdough bread, torn into pieces
1 tablespoon butter
½ teaspoon garlic powder
2 tablespoons fresh herbs, like thyme, basil, rosemary, plus more for sprinkling
1 (8 ounce) ball burrata cheese