Hazelnut Toffee Chocolate Chip Cookies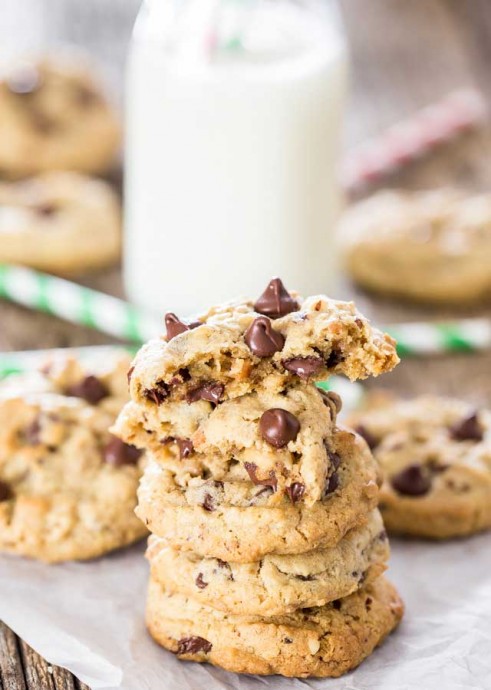 Hazelnut Toffee Chocolate Chip Cookies – delicious rich chocolate chip cookies loaded with hazelnuts and toffee bits. Totally irresistible and perfectly chewy cookies. What makes these cookies different and special? Hazelnuts, and toffee bits and loads of chocolate chips. Oh and there are oats in there too! So it's good for you- right?I loaded these cookies up with an entire bag of chocolate chips, roasted chopped hazelnuts, and toffee bits – Skor bits to be precise. And they're as decadent as they sound. They may not be the classic chocolate chip but they have the makings of a regular baking treat.
Tips For Making The Best Cookies Every Time
Make sure you DO NOT over bake your cookies. Keep in mind that they will continue to bake once you take them out of the oven.
Always use butter and not margarine.
Do not ever grease your cookie sheets. I always line them with parchment paper or a silpat and this way there's no cleaning required afterwards.
Use a medium cookie scoop to form your cookies perfectly.
If you find that the dough is too sticky, add a little bit more flour. You should be able to form it into a ball with your hands but they should still be easy to handle.
Ingredients:
1 cup hazelnuts toasted
1 cup unsalted butter at room temperature
3/4 cup brown sugar packed
3/4 cup granulated sugar
2 eggs
1 teaspoon vanilla extract
1/2 cup old-fashioned oats
2 1/2 cups all-purpose flour
1 teaspoon baking powder
1 teaspoon baking soda
1/2 teaspoon salt
12 ounce semi-sweet chocolate chips I used Ghirardelli
4 ounce toffee bits I used skor