Grilled Asparagus Caesar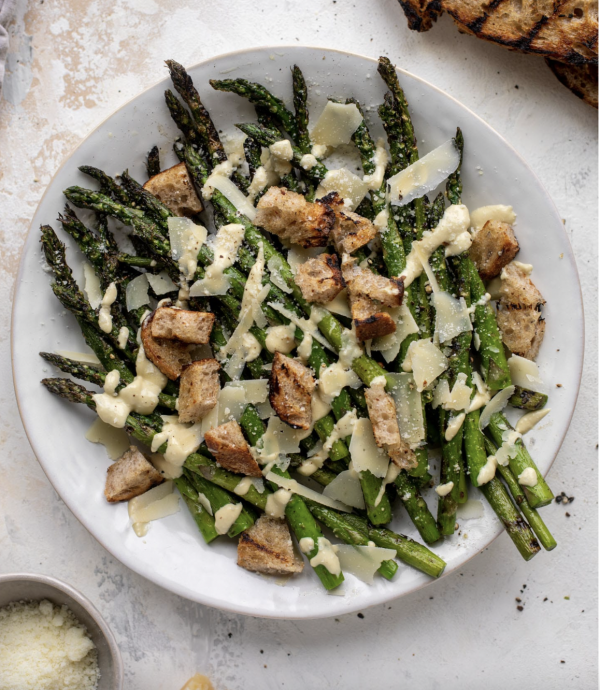 I'm here to tell you that you need this grilled asparagus caesar salad in your life!
This is the best thing I've eaten off the grill in a long time. And if you follow my week in the life posts, then you know we grill all year long! I still usually grill at least one dinner a week and we grill on the weekends too, even when it's cold and snowy.
So it's not like we've been without the grill! But there is something about this asparagus. Maybe because it's the first REAL taste of spring and summer off of the grill?
The recipe could not be more simple! Perfect for your easter or spring brunch. It's my yogurt caesar dressing – I know I just rambled on about it when I shared our go-to kale caesar.
Asparagus spears that are tossed with olive oil, salt and pepper then thrown on the grill. In a pinch you really could roast these but they just won't have that smoky, charred flavor.
Ingredients:
2 pounds asparagus spears
3 tablespoons olive oil
Kosher salt and pepper
Garlic powder for sprinkling
4 slices sourdough bread
⅓ cup shaved parmesan cheese
3 tablespoons finely grated parmesan cheese
Caesar dressing
4 garlic cloves, minced
3 tablespoons greek yogurt
2 tablespoons parmesan cheese
1 tablespoon dijon mustard
2 teaspoons red wine vinegar
1 teaspoon anchovy paste
1/4 teaspoon salt
1/4 teaspoon pepper
1/2 lemon, juiced
1/3 cup olive oil