​Chocolate Lasagna (No-Bake Dessert)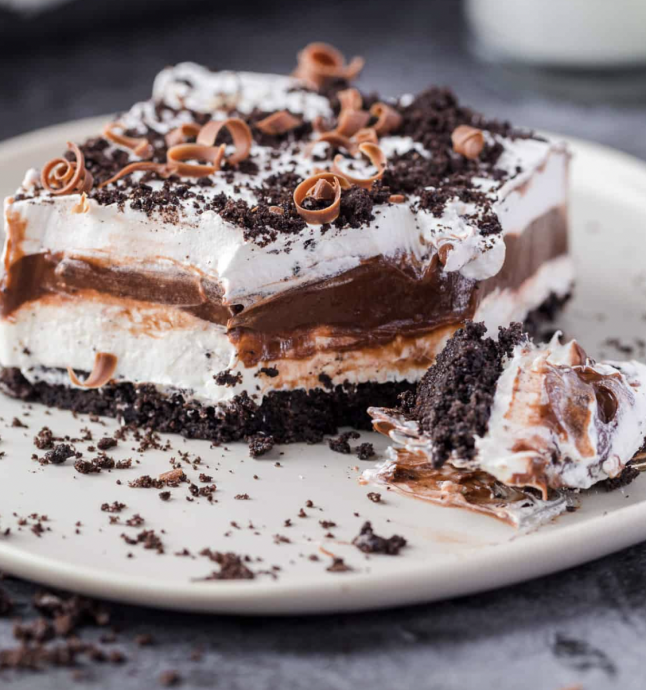 A classic recipe for Chocolate Lasagna. This easy, no-bake dessert is layered with crushed Oreos, cream, and chocolate pudding. If you like chocolate cake but don't like to bake, you have found yourself a new favorite dessert recipe. The dessert comes together so quickly. The crunchy Oreo crust with a cheesecake layer and chocolate pudding makes for a phenomenal combination of flavors.
We love make-ahead crowd-pleasing desserts like Panna Cotta and Baklava. This chocolate pudding layer dessert is a winner for parties and potlucks and loved by kids and adults alike.
Oreo crust- Using a food processor (or a ziploc bag with rolling pin), crush Oreos (with their cream) then combine with the melted butter and press into a 9"x13" baking dish. Refrigerate while you prepare the cheesecake layer.
Cheesecake layer- In a bowl, beat together the cream cheese with vanilla and powdered sugar. Fold in the cool whip. Carefully spread over the Oreo crust. Refrigerate as you prepare the chocolate layer.
Chocolate pudding layer- Beat the cold milk with instant chocolate pudding until it thickens. Carefully spread over the cheesecake layer. Refrigerate until it sets.
Cool whip layer- Spread the Cool Whip over the chocolate layer and top with reserved crushed Oreos or your favorite topping. Refrigerate for at least 2 hours or overnight and enjoy.
Ingredients:
Crust Layer:
14.3 oz pack of Oreos, or 405 grams
6 Tbsp unsalted butter, melted
Cheesecake Layer:
12 oz cream cheese, room temp
1 tsp vanilla extract
1/4 cup powdered sugar
8 oz cool whip, refrigerated (whipped topping)
Chocolate Pudding Layer:
7.8 oz instant chocolate pudding, (two 3.9oz packages)
3 1/4 cup cold whole milk
Top Layer:
8 oz cool whip, refrigerated (whipped topping)