Korean Meatball Lettuce Wraps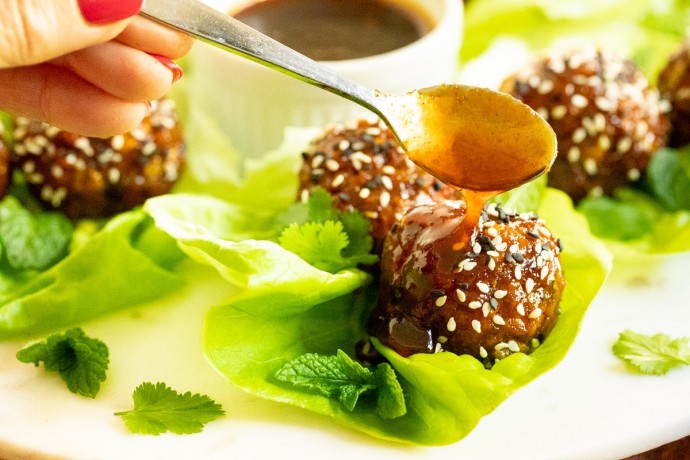 Looking to eat a little lighter and leaner? These Korean Meatball Lettuce Wraps are easy, healthy and so delicious! The meatballs also make a fabulous appetizer that will disappear in the blink of an eye!A delicious glaze and sauce, all in one!
There's lots of flavor in these Korean meatballs but the glaze/sauce is definitely the crowning glory. It's easy to throw together while the meatballs bake. Simply combine soy sauce, honey, brown sugar, rice vinegar, Gochujang and a splash of sesame oil. When the meatballs are almost finished baking, they're dipped in the delicious sauce then popped back in the oven for an additional 5 minutes. The heat helps the flavorful glaze to adhere and the meatballs to emerge from the oven golden and glistening.
The remainder of the glaze can be used for a sauce to spoon over the meatballs. It's sweet, spicy, salty and so delicious! Add side condiments like shredded purple cabbage, sliced cucumbers, sesame seeds, chopped cashews or peanuts, bean sprouts, scallions, shredded carrots and/or pickled red onions and let everyone help themselves.
Ingredients:
For the meatballs:
1 pound ground beef
6 scallions finely chopped
1 cup finely diced bell pepper red, orange or yellow (or a combination)
1 tablespoon finely grated fresh ginger
3 medium cloves garlic finely minced
½ cup panko crumbs
1 large egg
1-2 tablespoons Gochujang Korean chili paste
1 teaspoon kosher salt
sesame seeds thinly sliced green onions and cilantro for garnish
For the sauce:
½ cup honey
¼ cup low sodium soy sauce
1-2 tablespoons gochujang Korean chili paste
2 tablespoons rice vinegar
2 tablespoons brown sugar I use dark but light will also work
1 teaspoon sesame oil