Hot Cross Bun Muffins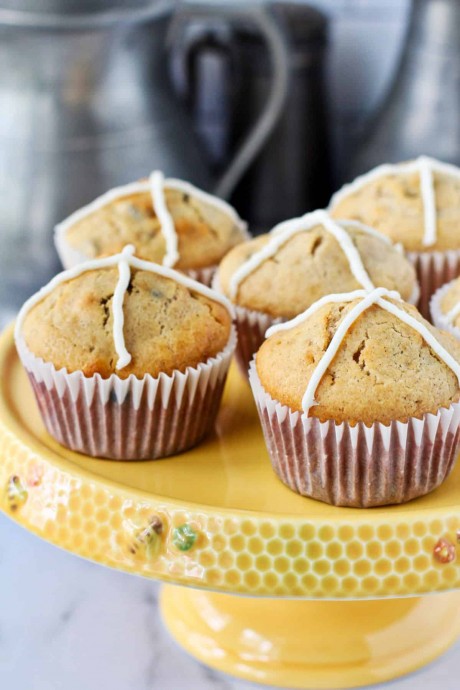 These muffins are flavored with cinnamon, nutmeg, and allspice and filled with rum-soaked raisins and dried cranberries. They are piped with a creamy vanilla frosting on top in the same shape that you would top a traditional yeasted hot cross bun.
You can change the dried fruit you use in these muffins too, and include candied citron or mixed candied fruit along with the raisins. You can also use golden raisins if you prefer them.
These muffins are slightly sweet, but not too much. There is only 1/3 cup of sugar in 15 muffins (not counting the frosting).
Ingredients:
For the Muffins
1 cup (5 1/2 ounces) raisins
1/2 cup (2 3/4 ounces) dried cranberries
2 tablespoons rum or water
12 3/4 ounces (3 cups) unbleached all purpose flour
1 tablespoon baking powder
2 1/4 ounces (1/3 cup) granulated sugar
1/2 teaspoon salt
1/2 teaspoon cinnamon
1/2 teaspoon nutmeg
1/4 teaspoon ground allspice
2 large eggs, room temperature
1 1/2 cups milk, room temperature
4 ounces (1 stick) unsalted butter, melted and cooled
For the Frosting
5 ounces (1 1/4 cups) confectioner's sugar
2 tablespoons soft butter
1 teaspoon vanilla extract
1 tablespoon milk or cream