Thai Quinoa Salad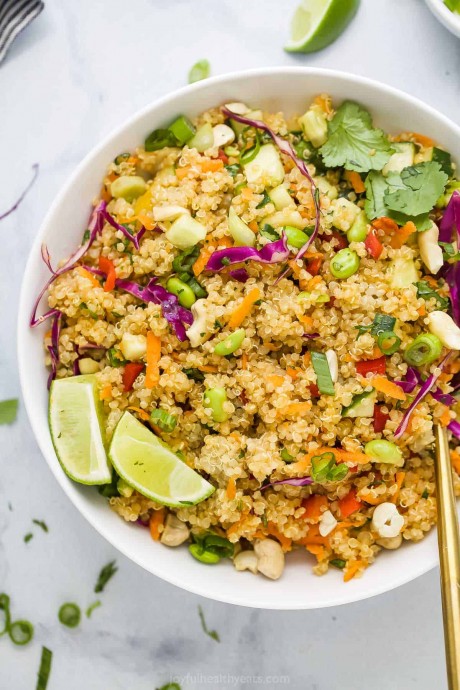 Fluffy quinoa, crunchy cucumber, bright bell pepper and chewy cabbage are just a few of the ingredients that make this Thai Quinoa Salad stand out. It's tossed with a classic sesame ginger dressing that packs the perfect punch of heat!
This is the type of side dish that always manages to steal the thunder of the main course. It's delightfully crunchy, just the right level of spicy, and bursting with juicy goodness in every bite. If you don't make a double batch, you're probably going to regret that decision.
In addition to charming your taste buds, this fresh Thai salad will fuel your body with protein, fiber and a wealth of other nutrients. It's completely gluten-free and vegan-friendly, making it a foolproof option for any potluck or cookout – especially one that may feature unfamiliar faces and unknown dietary needs. Believe me, it's easy to make friends when everyone's asking for your recipe!
Ingredients:
For the Salad
1 cup dry quinoa
2 cups of water
1/2 red pepper, diced
1/2 yellow pepper, diced
4 green onions, diced
1 cup of english cucumber, diced
1/2 cup thinly sliced red cabbage
1 cup grated carrots
1/4 cup chopped fresh cilantro
1/4 cup chopped unsalted cashews
1/2 cup edamame
For the Spicy Sesame Dressing
6 tablespoons toasted sesame oil
2 tablespoon avocado oil
2 tablespoon lime juice
3 tablespoons tamari sauce
2 tablespoon rice wine vinegar
⅔ cup fresh cilantro
1 teaspoon ground ginger
1 garlic clove, minced
2 teaspoon sriracha sauce
2 teaspoon honey