Classic Greek Eggplant Moussaka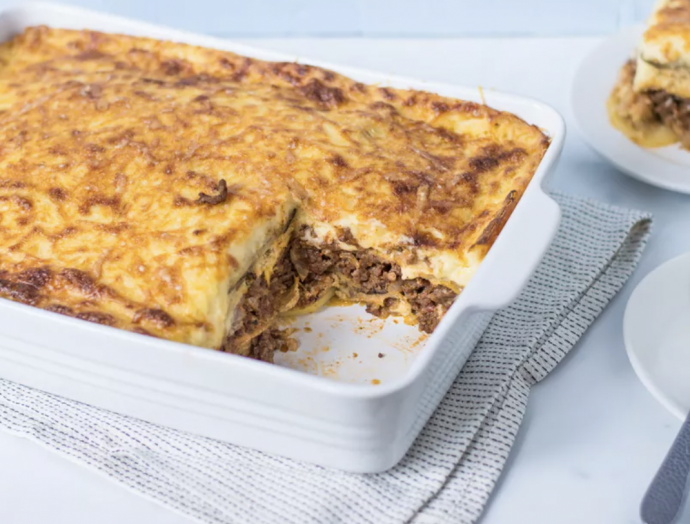 Moussaka is a classic Greek casserole. It's made with layers of eggplant, potato, meaty lamb sauce, and cheese topped with an egg-enriched béchamel sauce that crisps up and becomes golden brown in the oven. While moussaka can be time-consuming to prepare, it's worth the effort—so hearty and filling that a simple salad is the perfect side dish to this complete meal.
A dish most associated with Greece, moussaka is well-known in Middle Eastern countries, each with its own version of this hearty and filling casserole. Modern versions use beef, some skip the potatoes and béchamel, but most keep the meat sauce and have some type of creamy sauce on top.
Although there are many steps to complete the moussaka, think of it like lasagna, but instead of pasta sheets, you'll be using eggplant and potatoes. Assembling the dish is easy, and you can make it up to 48 hours in advance.
Ingredients
3 to 4 eggplants (about 4 pounds)
Kosher salt, to taste
1/3 cup olive oil, divided
1 pound potatoes, peeled and boiled in salted water
8 large eggs, whites and yolks separated
2 cups plain breadcrumbs, divided
For the Meat Filling:
1 1/2 pounds ground beef, or lamb
2 large onions, finely diced
2 cloves garlic, minced
1/2 cup dry red wine
1 teaspoon ground cinnamon
1/4 teaspoon ground allspice
1/4 cup fresh parsley, chopped
2 tablespoons tomato paste
1 cup crushed tomatoes
1 teaspoon sugar
Kosher salt, to taste
Freshly ground black pepper, to taste
For the Béchamel Sauce:
8 ounces (1 cup) unsalted butter
1 cup all-purpose flour
4 cups milk, warmed
1 pinch ground nutmeg
For Topping the Casserole:
1 cup grated kefalotyri cheese, Parmesan, or Pecorino Romano