Chimichurri Roasted Potatoes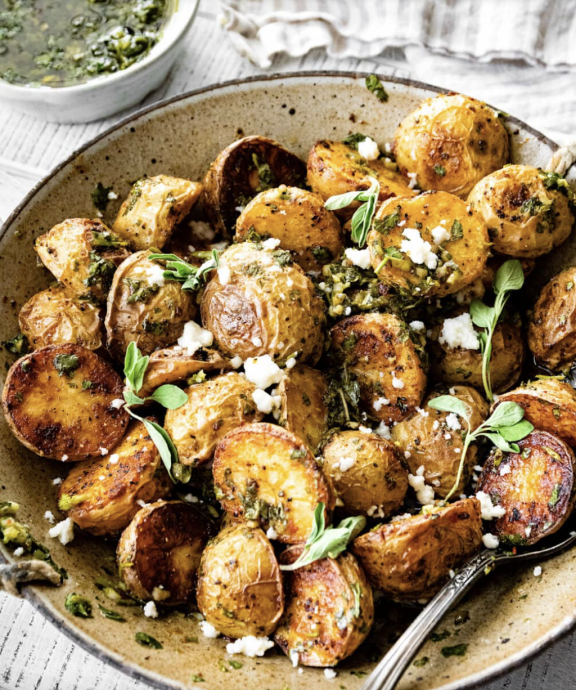 My current obsession is chimichurri sauce. We have been putting it on tacos, vegetables, salads, grilled meats, quesadillas, and even potatoes. These chimichurri roasted potatoes are simple, but so good. You have to make them! Chimichurri is made of finely chopped parsley (sometimes cilantro), minced garlic, olive oil, and red wine vinegar.
It is fresh, herby, tangy, garlicky, and so delicious. It can be a spicy, if you want to add red chili peppers or crushed red pepper flakes.
The herbs in chimichurri are coarsely chopped, creating a slightly chunky sauce that looks more like green salsa or a chunky herb oil.
Roasted potatoes are always a good idea, but add chimichurri sauce and you have an amazing side dish. The chimichurri takes basic potatoes to a whole new level.
After the potatoes come out of the oven, toss them in chimichurri sauce. The potatoes are crispy, salty, and the fresh, herbaceous chimichurri sauce really brightens things up. I like to top the potatoes with a little queso fresco to complete the dish. Absolute perfection!
Ingredients:
2 pounds small red or baby Yukon Gold potatoes, washed well
2 tablespoons olive oil
Kosher salt and freshly ground black pepper, to taste
Chimichurri Sauce
Queso fresco, for garnish, optional