Steak Tacos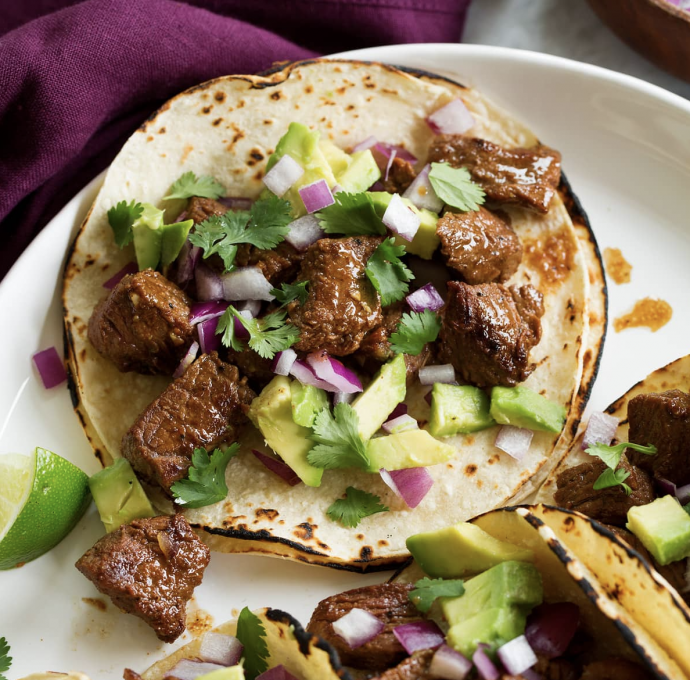 The BEST Steak Tacos recipe! Steak pieces are soaked in a simple lime and ancho chili seasoned marinade and quickly pan seared in a super hot skillet until just perfectly browned. From there it's layered on tortillas and finished with your favorite toppings!
Tacos are one of the best foods out there and these steak tacos are no exception!
They are brimming with bright lime flavor and delicious seasonings, the hint of honey in the marinade helps the steak sear beautifully, and the toppings that crown them are the perfect finishing highlight.
The key here is just to pick out good quality steak. I recommend looking for sirloin with a generous amount of marbling or using prime grade. Marbling is the fat swirled throughout the steak, more marbling means more flavor and a more tender piece of meat.
Ingredients:
1 1/2 lbs. sirloin steak (preferably prime grade or well marbled with fat)
3 Tbsp fresh lime juice
3 Tbsp olive oil
2 tsp honey
2 tsp minced garlic
1.5 tsp ancho chili powder
1 tsp ground cumin
1 tsp salt
1 tsp freshly ground black pepper
4 tsp vegetable oil, divided
For serving
10 (6-inch) corn tortillas, warmed
1 avocado, diced
1/2 small red onion or white onion, diced
1/4 cup chopped cilantro