John Wayne Casserole Recipe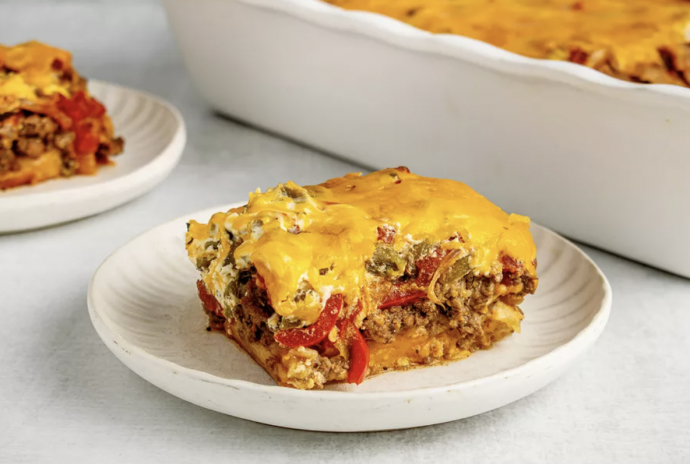 John Wayne casserole is a delicious mix of ground beef, vegetables, pickled jalapeños, and cheese, all layered atop a biscuit crust. According to cooksinfo.com, this casserole gets its name because "Wayne directly contributed the recipe to a 1979 cookbook titled, "Cooking with Love from Cara and Her Friends", compiled by Cara Connery.
It is unknown where Wayne got the recipe from." However, what is now known as John Wayne casserole is quite different from the original recipe. It drops the eggs and adds a biscuit crust and ground beef but keeps the original southwestern inspiration by including the pickled jalapeños, tomatoes, and cheese. The John Wayne casserole made a great-tasting, satisfying everyday meal. It was easy to put together and bake, and the flavors were excellent. The jalapeno peppers flavored the sour cream, and you could replace them with mild peppers if you prefer less heat. I'll probably cut back to a smaller can of tomatoes when I make it again.
Ingredients:
Cooking spray
1 (16-ounce) can large biscuits
2 tablespoons olive oil
2 pounds ground beef preferably 85% lean
1 (1-ounce) packet taco seasoning
1/3 cup water
Kosher salt, as needed
1 medium yellow onion, sliced
1 medium red bell pepper, sliced
1 medium green bell pepper, sliced
1 (14-ounce) can diced tomatoes
1 cup sour cream
8 ounces shredded mild cheddar cheese, divided
1 (4-ounce) can diced jalapeños