SunButter & Jelly Cupcakes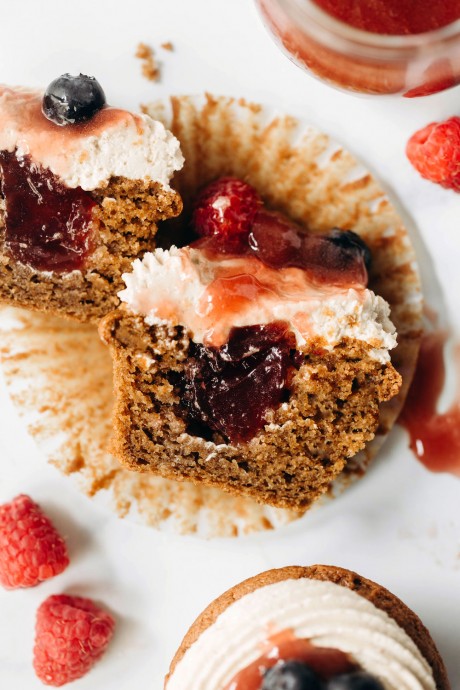 Fluffy grain-free SunButter cupcakes filled with berry jam and swirled with vegan SunButter buttercream. A sandwich-inspired sweet treat!
There are so many yummy things happening in these little sandwich cakes, lets start with ingredients and then we'll get to jam and frosting and all those enticing things. I've used SunButter in a number of different cupcake batters because I am simply obsessed with the stuff, but this is the first cupcake with SunButter as the key flavor, and let me just tell you I am in love. The ingredient list looks a little something like:
Almond milk + lemon juice. Similar to the almond milk + apple cider vinegar "vegan buttermilk" trick, but with lemon juice instead for a couple of reasons: 1) it offsets the green affect that can sometimes happen with SunButter baking better than vinegar in my experience and 2) I personally like the flavor better. Fresh squeezed works best!
Ingredients:
1/2 cup (120g) almond milk
1 tbsp lemon juice
1/3 cup (105g) maple syrup
1/3 cup (80g) coconut sugar
1/2 cup (125g) Creamy SunButter
1/4 cup (50g) coconut oil
1 tsp vanilla extract
1 1/4 cup (160g) cassava flour
2 tbsp (15g) coconut flour
1 tsp baking powder
1/2 tsp baking soda
1/4 tsp salt
Jam of choice (I used seedless blackberry)
SunButter Frosting
1/2 cup vegan butter, softened
1/4 cup Creamy Sunbutter
2 cups powdered sugar
1/2 tsp vanilla extract
1 tbsp almond milk