Saucy Gochujang Noodles with Chicken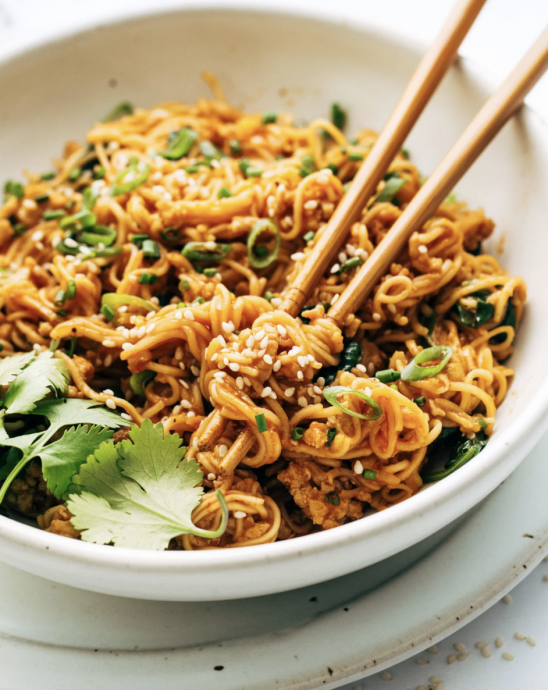 Spicy, peanutty, noodley bit of super easy comfort food coming your way with these saucy gochujang noodles!
Summer has summer-ed and the outside shouldn't hog all the heat for itself, let the sauce have some! Thank you ever so to the subtle heat of the gochujang sauce and rich creaminess of the peanut butter, thank you to the twisty twirls of the little ramen noodle bricks, and bless those piles of fresh herbs on top.
This new pal is so easy to throw together you might just find yourself making it again and again and ok yes sure, why not one more time this week.
If you're not familiar, gochujang — a staple ingredient in Korean cooking with an absolutely delicious lingering heat and strong umami flavor — mixed with some other ingredients like soy sauce, vinegar, and a sweetener. Gochujang itself is a spicy-sweet-savory paste that is made from fermented soybeans, red chile pepper flakes, sticky rice, and salt and it is commonly used to flavor meat dishes, soups and stews, and sauces.
For this recipe, we actually used a gochujang sauce which is premixed with other ingredients, mostly because it is almost always available at our local grocery store. But also because it is a little less potent than the paste, closer to a mild sriracha, whereas the paste is thicker and spicier.
If you happen to have the paste, it is definitely a deep and interesting flavor and can of course be used here! But you might consider adding a splash of soy sauce and honey to balance out the flavors.
Ingredients:
Gochujang Sauce:
3 tablespoons soy sauce
2–3 tablespoons gochujang sauce (like this one*)
2 tablespoons tomato paste
2 tablespoons peanut butter
2 tablespoons water
1–2 tablespoons brown sugar
1 tablespoon sesame oil
1 clove minced garlic
1–2 cups broth or water for thinning the sauce
Ramen:
1 pound ground chicken (could also use pork)
1/2 teaspoon salt
freshly ground black pepper
2 packets ramen or stir fry noodles (just the noodles)
a couple big handfuls of fresh spinach
chives, scallions, cilantro, basil, or whatever herbs you like for topping
salt, chili oil, or sesame seeds for finishing