Cheeseburger Sliders Recipe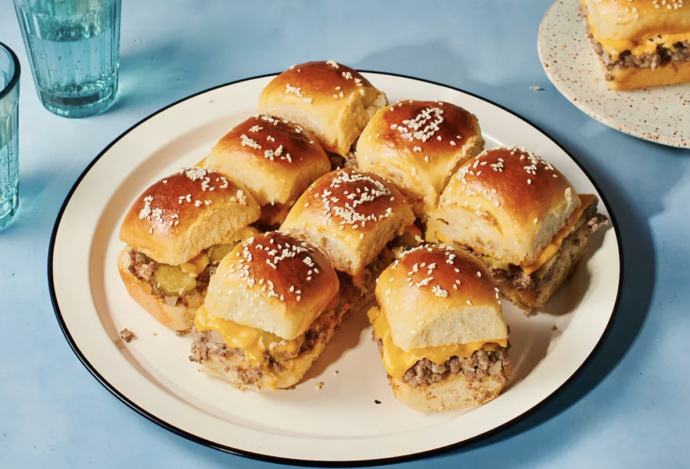 Cheeseburger sliders are the perfect party food, and they make a fantastic snack for a family game or movie night. And with minimal chopping or dicing, they're easy enough for a weeknight meal. Sliders are always a hit, whether for a graduation celebration, potluck dinner, or a game day party!
These sliders are versatile as well. Add extra cheese for double cheeseburger sliders or make bacon cheeseburger sliders with the addition of cooked crumbled bacon. And you don't have to use ground beef. You can make these sliders with ground turkey, chicken, or sausage—you could even make them vegetarian-friendly with a meat-free alternative.
If you're serving cheeseburger sliders as part of a meal, add a side of fries, roasted potatoes, potato chips, or coleslaw. Or serve the sliders with a cup of soup or tossed salad for a satisfying lunch.
Ingredients
For the Special Sauce
2/3 cup mayonnaise
2 tablespoons pickle juice
2 tablespoons ketchup
1 tablespoon Dijon mustard
For the Sliders and Assembly
2 tablespoons vegetable oil
1 medium onion, diced
2 pounds lean ground beef
2 tablespoons Worcestershire sauce
2 teaspoons onion powder
2 teaspoons garlic powder
1 1/2 teaspoons kosher salt, or to taste
1 teaspoon freshly ground black pepper
24 Hawaiian sweet rolls, such as King's Hawaiian (2 packages)
Dill pickle slices
6 ounces cheese (about 10 American cheese slices or shredded cheddar jack)
For the Topping
2 tablespoons melted unsalted butter
1 tablespoon sesame seeds, or a blend of sesame and poppy seeds