Nutella Stuffed Chocolate Chip Cookies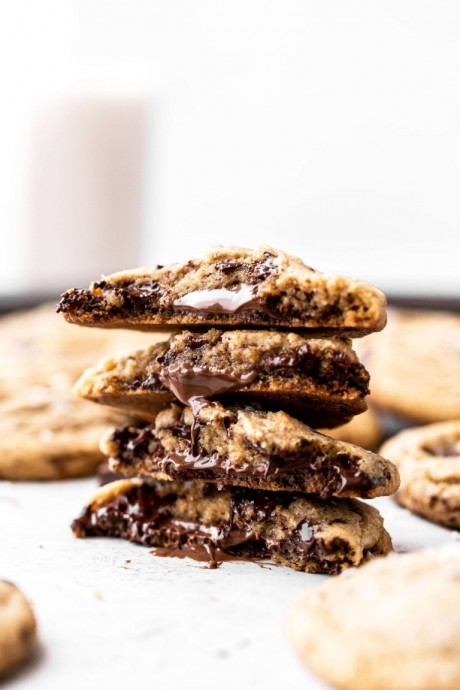 As if chocolate chip cookies couldn't get any better, I went and stuffed them with Nutella! These Nutella stuffed chocolate chip cookies are ooey gooey and so easy to make. The cookies are also baked with brown butter for an extra layer of delicious flavor! Stuffing cookies with Nutella is actually much easier and cleaner than you might be thinking. The trick to a mess-free stuffed cookie is a large cookie scoop!
We all know there's nothing better than a fresh and warm chocolate chip cookie and these are no exception. The best time to eat these cookies is shortly after they've been baked. Transfer the cookies to a cooling rack, sprinkle them with a little sea salt, and let them cool for about 15 minutes before digging in.
If you need to keep some for later, they also warm up in the microwave very easily! Heat them for about 15 seconds and they'll go back to being as warm and melty as they were fresh from the oven. You can enjoy them when they've completely cooled, they just won't keep that same ooey gooey consistency. But after all, a Nutella stuffed cookie is still a damn good cookie no matter when you eat it! These Nutella stuffed chocolate chip cookies are cookie HEAVEN! They're ooey gooey in the center and baked with brown butter for a rich flavor.
Ingredients:
2 cups all-purpose flour
1 tsp baking soda
1/2 tsp salt
1 1/4 cup packed light brown sugar
3/4 cup unsalted butter, browned and cooled
1 large egg + 1 egg yolk
2 tsp vanilla extract
4 oz dark chocolate, finely chopped
Roughly 1/3 cup Nutella
Flaky sea salt for sprinkling