Cheesy Baked Portobello Mushrooms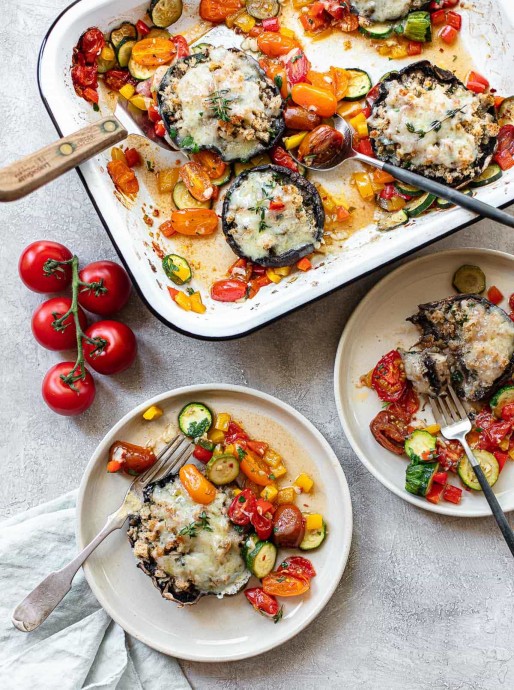 Hearty roasted and stuffed baked portobello mushrooms topped with creamy melted cheese and a mixture of vegetables. This recipe is a perfect vegetarian appetizer, side, or main dish. This dish is so delicious – a recipe for a savory baked mushroom casserole you can serve as a starter or main dish.
Even if you're smack in the middle of winter when you make these cheesy stuffed portobellos, I promise you'll feel like it's a sunny Mediterranean day. Any soft melting cheese would be an indulgent choice for topping off the rustic, wholesome mixture of roasted colorful vegetables and meaty portobello mushroom caps. Portobello caps are trimmed, then filled with fresh, seasoned breadcrumbs. They're roasted together with sweet cherry tomatoes, zucchini and colorful bell peppers.
You'll love this recipe, not only because it's a snap to make, but also because it gives you lots of options. It's packed full of vibrant and colorful vegetables, meaty mushrooms, and velvety melted cheese. Serve it warm as a starter or appetizer or make it the star of a hearty, meatless main dish on a cozy dinner-at-home night.
Ingredients:
12 ounces (340 g) cherry tomatoes in assorted colors, halved
1 bell pepper, red, orange or yellow, diced
1/4 pound (115 g) small zucchini (about 2), sliced into 1/2-inch rounds
1 tablespoon grated or finely chopped garlic
1/2 teaspoon crushed red chili pepper
2 teaspoons chopped fresh thyme
Kosher salt
Extra virgin olive oil
1 1/2 cups (16o g) fresh breadcrumbs, store bought or homemade(see note)
2 tablespoons chopped fresh parsley
6 portobello mushroom caps, stems removed
6 ounces (170 g) havarti, mozzarella or fontina cheese, shredded