Maine Lobster Rolls Recipe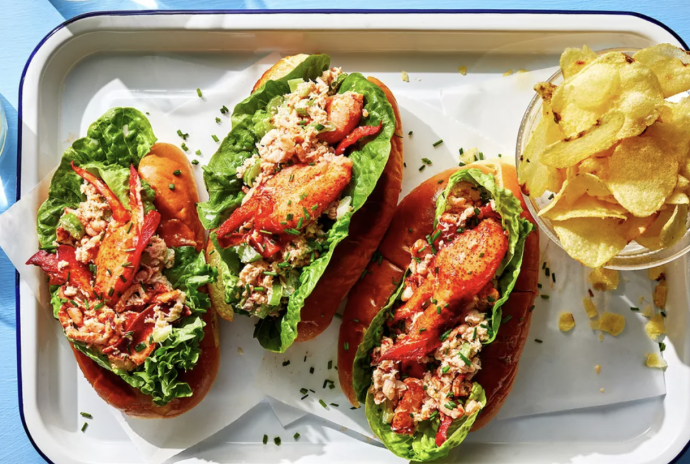 Less is more when it comes to authentic Maine lobster rolls. Unlike Connecticut-style rolls, which are served warm with butter, these are made with cold chunks of fresh, sweet Maine lobster, a simple mayonnaise-based dressing, and buttered, toasted hot dog buns. For crunch, add finely chopped celery if you like, and season with a dash of salt and pepper.
You'll need about three 1 1/4-pound to 1 1/2-pound lobsters to get 1 pound of meat, which is more than enough for four well-stuffed lobster rolls. In fact, this recipe can easily be stretched to fill five or six buns. Maine lobster rolls are typically made with New England-style split-top buns, but if they are not available in your area, feel free to use any standard-sized hot dog bun.
This sandwich is truly one of life's simple pleasures. While this will not be an inexpensive sandwich, once you taste the amazing contrast between the warm, buttery bun and the cold, sweet lobster salad, you'll realize it was worth every penny.
Ingredients:
1 pound lobster meat, cooked and chilled
1/3 cup mayonnaise
1/4 cup finely chopped celery, optional
1 tablespoon lemon juice
Kosher salt, to taste
Freshly ground black pepper, to taste
2 to 3 tablespoons salted butter, softened
4 to 6 hot dog buns, preferably New England-style split-top
Lettuce leaves, optional
Chopped chives, for garnish, optional