Pink Drink Recipe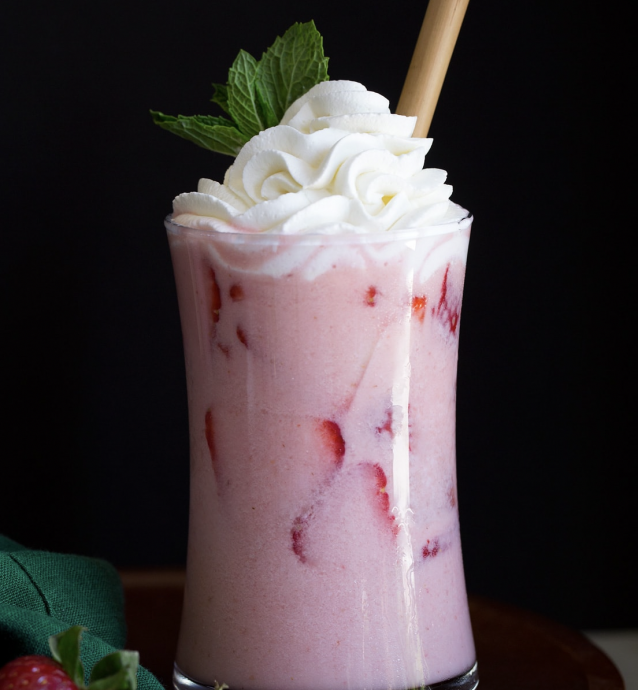 A copycat Starbucks Pink Drink recipe – and it's even better than the real deal! It's made with chilled juice, creamy coconut milk, vibrant strawberries and it's finished with a small mountain of sweetened whipped cream to make it over-the-top delicious!
Fresh strawberries will work in the blended drink portion. Just replace 1/2 cup water with 1 cup ice if using fresh.
If you can't find berry or a strawberry juice blend then you could use white grape juice.
Try substituting some raspberries for the strawberries. Strain out the seeds before serving.
I have tried this with coconut milk beverage (in a larger quantity since it's diluted) and it's not quite as good so if possible stick with canned coconut milk or even 1/3 cup canned coconut cream and 1/3 cup additional water.
Honey could be used in place of the sugar. You can adjust the amount of sweetener (either sugar or honey) that is used to taste.
Ingredients:
1 1/2 cups berry juice, such as Juicy Juice Berry or Strawberry Kiwi, chilled
2/3 cup canned coconut milk, room temperature or chilled
1/2 cups cold water
6 oz (about 6 medium) frozen strawberries
2 Tbsp sugar*
1 1/2 cups ice, for serving
3 fresh strawberries,** sliced, for garnish (optional)
Whipped Topping (optional)
1/2 cup heavy cream
1 Tbsp granulated sugar
1/4 tsp vanilla extract