Chipotle Sweet Potato And Quinoa Breakfast-For-Dinner Skillet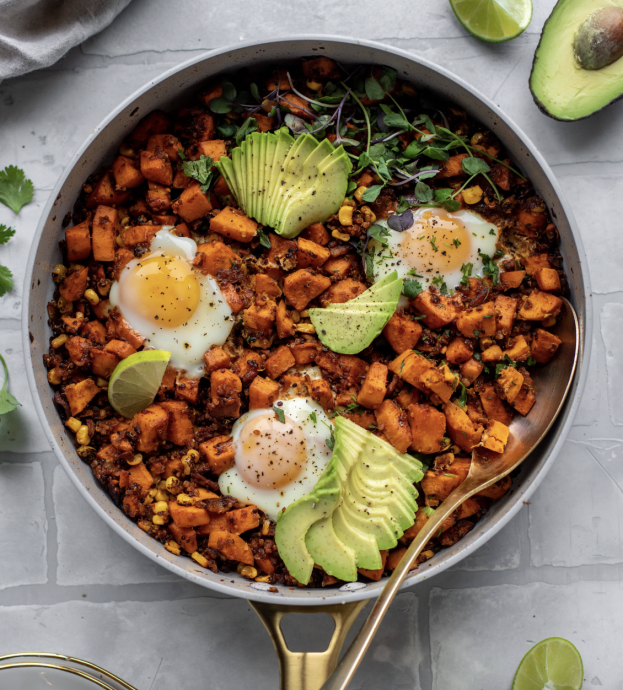 Breakfast for dinner is pretty much my favorite thing ever. We go through spurts of having breakfast for dinner once a week, and I love it.
First, it's comfort food. I will never think otherwise, because when I was probably 15 years old, my mom made me a scrambled egg, crispy ham and mustard sandwich (I know, are you freaking out?) and told me that it was comfort food. It's lived in my brain ever since.
Sweet breakfast? Savory? Do I want pancakes or potatoes and eggs? Maybe I'll just make waffles and bacon and eggs so I can have sweet and savory.
Truly, everyone loves it and it adds a nice variety to the week. Especially if you're not someone who ever eats eggs or pancakes for breakfast. We're usually not, aside from the occasional weekend.
Ingredients:
2 slices bacon, chopped
1 sweet onion, diced
2 garlic cloves, minced
3 sweet potatoes, peeled and chopped into 1-inch cubes
1 tablespoon chipotle chili powder
1 teaspoon smoked paprika
¼ teaspoon salt
¼ teaspoon freshly cracked pepper
1 tablespoon tomato paste
1 cup cooked quinoa
⅔ cup corn, frozen or thawed is fine!
2 to 4 large eggs
1 avocado thinly sliced
2 tablespoons chopped cilantro for topping
1 tablespoon chopped chives for topping