Cowboy Caviar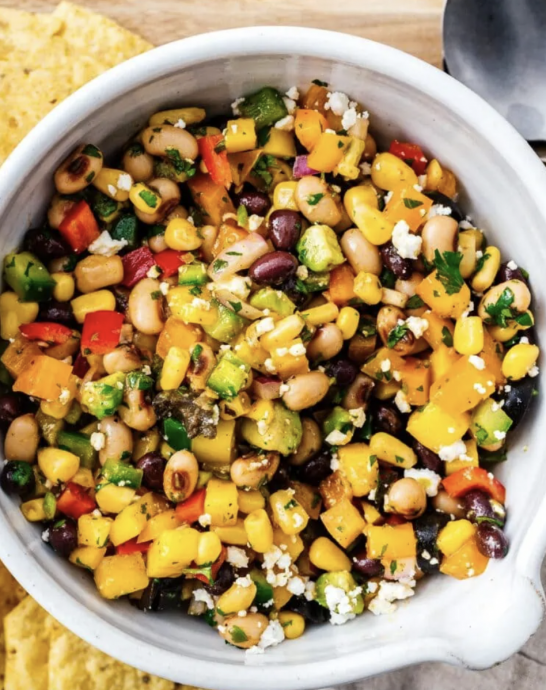 It's chips and dip season and cowboy caviar is here to stay!
If you're obsessed with the green goddess salad and want an alternative salad to eat with tortilla chips, this is for you. Any salad that disguises itself as dip scooped up with tortilla chips is a yes in my books and cowboy caviar is my new favorite.
Cowboy caviar, also known as Texas caviar, is a salad made from beans, black eyed peas, and diced vegetables dressed in a zippy tangy vinaigrette and eaten with tortilla chips. You can even eat it as a salad or scoop it up with chips as a dip.The dressing is tangy and delicious. It's essentially a lime vinaigrette seasoned with taco spices like chili powder, cumin, oregano, paprika, garlic and onion powder. For ease we're going to use taco seasoning.
Ingredients:
1 can black beans rinsed
1 can black eyed peas rinsed
1 can black olives sliced & drained
1 can corn drained
4 bell peppers diced, 1 each of red, yellow, orange and green preferred
1 small red onion diced
1 mango diced
2 avocados diced
2 jalapeños diced
1 bunch fresh cilantro chopped
1 cup feta cheese crumbled