Triple berry cheesecake galette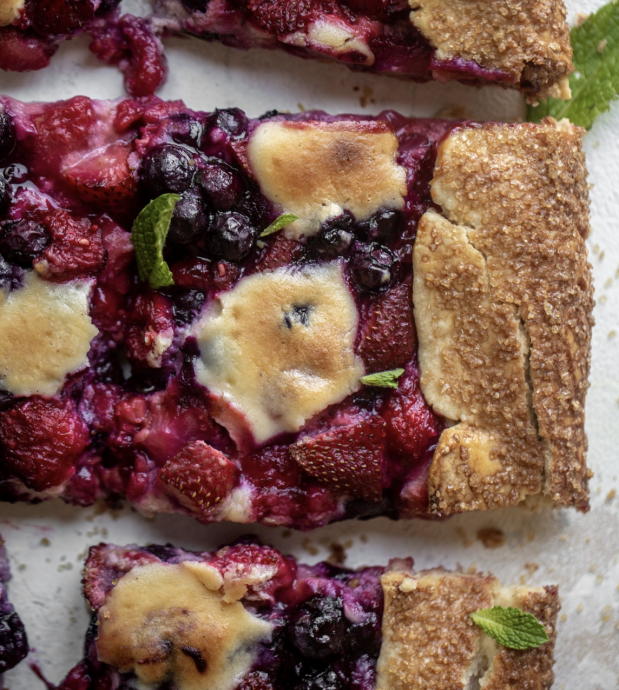 This triple berry cheesecake galette is so lovely for the summer season. Strawberries, raspberries and blueberries baked on a cheesecake filling in a flaky, buttery crust. Perfect for the 4th of July!
The filling is made with cream cheese, sugar and vanilla, whipped until silky smooth and creamy as can be, then thinly layered on the dough before being topped with all the juicy berries. I could eat the filling with a spoon alone. It's decadent and rich and dreamy.
I use a mix of raspberries, strawberries and blueberries because I love them together and they are also pretty. So vibrant and bright. You can use all three, or choose two, or even just use blueberries alone if you wish.
Ingredients:
CRUST
4 cups sifted all-purpose flour
3 tablespoons sugar
1 teaspoon salt
1 teaspoon cinnamon
1 large egg lightly beaten
1 teaspoon white vinegar
1/2 cup ice cold water
1 1/2 cups cold unsalted butter cut into pieces, 3 sticks or 24 tablespoons
1 egg + a few drops of water beaten together, for brushing
2 tablespoons raw coarse sugar
FRUIT
1 cup blueberries
1 cup raspberries
1 ½ cusp strawberries
¼ cup sugar
1 tablespoon all-purpose flour
FILLING
8 ounces cream cheese, softened
⅓ cup sugar
1 large egg
1 tablespoon vanilla extract
kosher salt