Best Stuffed Shells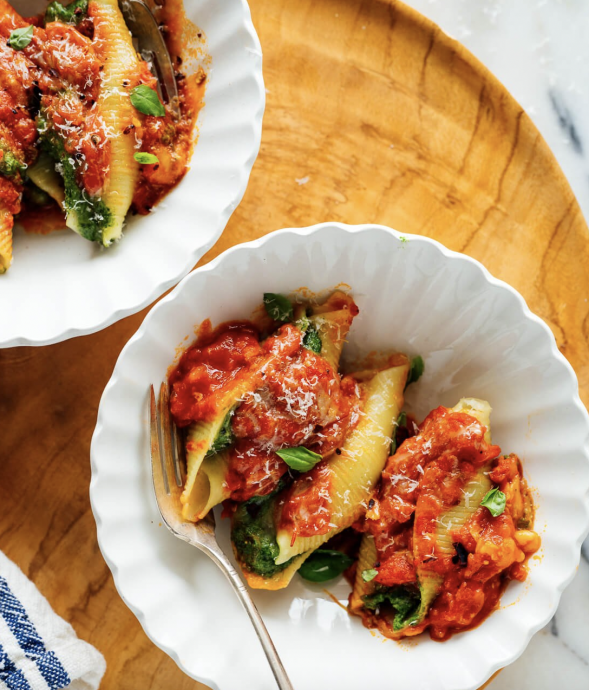 These stuffed shells are cheesy, saucy, and stuffed with the most delicious ricotta and spinach filling. I'm in love, and I think you will be, too. Speaking of love, they're so pretty that you could serve these shells for a romantic dinner at home.
A few more reasons to love this recipe:
It yields a lot of shells, so it's perfect for serving a crowd.
Leftovers are great for lunch, or you can freeze them for later.
This recipe is relatively easy to make, with minimal chopping.
Stuffed Shell Recipe Variations
I'm completely smitten with this recipe as written below. Here are some fun ways to change it up:
For lighter, less cheesy shells, use half as much mozzarella or omit it completely.
For standard cheesy shells (no greens), double the ricotta, finely chop the chives, press or mince the garlic, and stir the mixture together by hand.
For veggie shells, replace the greens with about 2 cups cooked or roasted vegetables.
Ingredients:
1 pound (16 ounces) fresh baby spinach or baby kale, or frozen spinach or kale, or 1 ½ pounds Tuscan kale or spinach bunches, washed and stems removed
1 tablespoon extra virgin olive oil
12 ounces jumbo shells
4 cloves garlic, peeled and cut into several segments
15 ounces (or 1 pound) ricotta cheese or cottage cheese
8 ounces (2 cups) grated part-skim mozzarella, divided
½ cup (2 ounces) grated Parmesan, plus extra for garnish
¼ cup (⅔-ounce) chives or green onions (mostly green parts), cut into ¼-long pieces
Freshly ground pepper, to taste
½ teaspoon red pepper flakes, to taste (omit if sensitive to spice)
¾ teaspoon fine sea salt, to taste
1 large egg, lightly beaten with a fork
3 cups (24 ounces) marinara sauce, homemade* or store-bought (I used Rao's)
Fresh basil for garnish, optional