Grilled Vegetables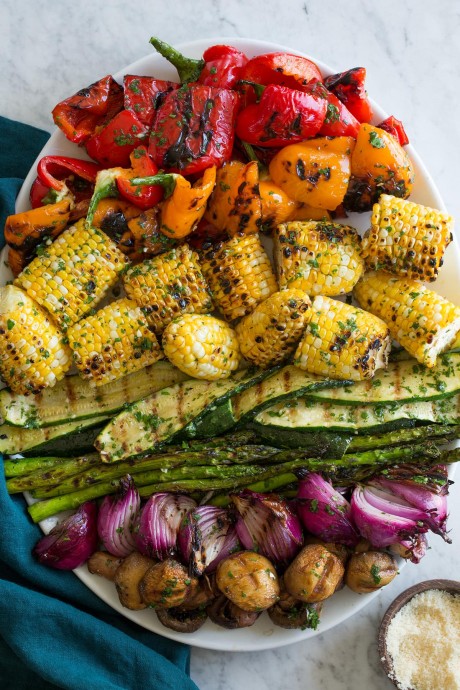 Nutritious Grilled Vegetables! A colorful rainbow of vegetables are grilled over hot flames until slightly charred and perfectly tender, then they're finished with a simple herby olive oil to add a final layer of fresh flavor. What more do you need this summer?
Grilling vegetables couldn't be easier. There's hardly anything to it but I recommend upgrading them with seasonings, fats or herbs like we've done here.
The main idea is just knowing which vegetables work well for grilling, following the simple straightforward prep method, cooking the vegetables on a preheated grill, and following the cook times directed.
Crisper vegetables will take longer to grill to a tender texture, while softer vegetables will obviously cook faster.
Ingredients:
2 medium red bell peppers, cored and seeded and cut into 8 equal chunks
1 medium orange bell pepper, cored, seeded and cut into 8 equal chunks
3 ears yellow corn, shucked, cut into 4 portions each
3 small red onions, peeled, then cut into quarters from root to tip
2 medium zucchini, sliced lengthwise into 1/3-inch thick strips
1 lb. asparagus (medium thickness), tough ends trimmed and discarded
8 oz. button mushrooms
Olive oil cooking spray or avocado oil cooking spray
Salt and freshly ground black pepper
1/3 cup grated parmesan cheese (optional)
1/4 cup olive oil
1/4 cup finely chopped fresh parsley
1 1/2 Tbsp fresh lemon juice
1 tsp minced garlic