Walnut & Herbs Crunchy Chicken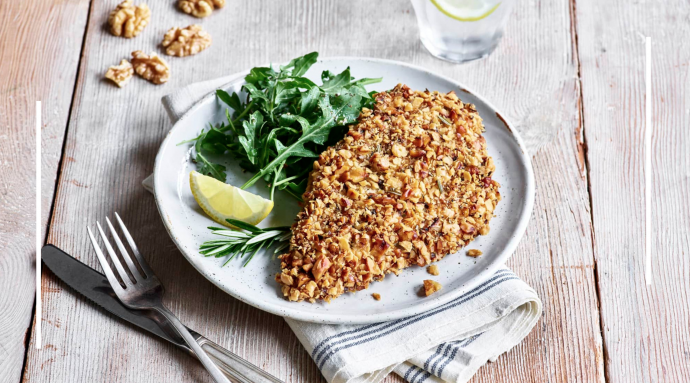 Walnut Crunchy Chicken is an easy dinner idea you can use for chicken breast. Add a colorful salad or your favorite dipping sauces and watch the kids dig in! A savory, buttery, nutty, baked chicken dish with a little sweetness of honey. Excellent for outdoor parties. Packed with omega-3 fatty acids, walnuts add richness to this light breading; the coating keeps the chicken moist. One ounce of walnuts is a powerhouse of important nutrients for optimum health, including protein, fiber, and magnesium. As a nutrient-dense food, walnuts are an excellent way to improve overall diet quality and are certified by the American Heart Association's Heart-Check mark.
While the chicken bakes, all you have to do is to mix up the salad ingredients. I prefer a variation of greens, red onion, juicy tomatoes, pomegranate seeds, and salty feta. You can serve it up on separate plates, or one big gorgeous plate for dinner with friends.
Ingredients
3 (8 ounce) boneless, skinless chicken breasts
1 cup crushed crackers
3/4 cup finely chopped California walnuts
1/4 cup grated Parmesan cheese
2 teaspoons salt
1 teaspoon dried thyme
1 teaspoon dried marjoram
1 teaspoon dried crushed rosemary
1 teaspoon black pepper
1/3 cup flour
2 eggs, beaten
6 lemon wedges
Directions
1.Place each chicken breast on a board and carefully cut in half horizontally to make 6 flat fillets.
2.Place crushed crackers, walnuts, cheese, salt, herbs, and pepper in a shallow dish and toss with your fingers to mix all ingredients. Place flour and eggs in two other shallow dishes.
3.Dip each chicken breast in flour, rolling to coat completely. Dip in beaten egg and let the excess drip off. Place in crumb mixture and turn several times to coat heavily, lightly pressing crumbs into the chicken.
4.Heat 1-1/2-inches of oil in a very large skillet. (Oil should be about 375℉ and will pop if a few drops of water are added.) Cook 2 or 3 chicken pieces at a time making sure not to crowd the skillet. Cook for 2 to 3 minutes on each side or until golden brown. Drain on paper towels.
5.Serve with lemon wedges and salad.
Bon Appetit!