30-Minute Quinoa Enchilada Skillet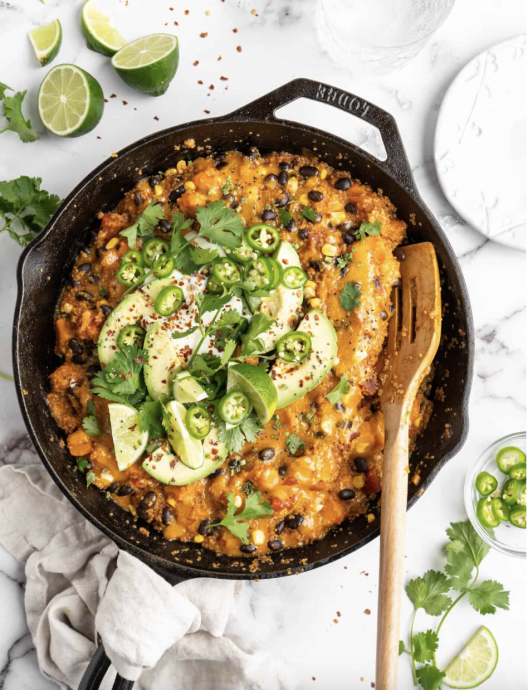 This easy cheesy Quinoa Enchilada Skillet takes just 30 minutes from start to finish, all in one pot! It's a healthy, nutritious, flavorful dish your whole family will love.
I love that you just put all your ingredients into your skillet, let it cook, and get to serve up a filling, protein-packed, all-around healthy dish that works as a side or an entree. And, even better, you can also use this as a fridge dump recipe, swapping out the ingredients I used with what you happen to have on hand.
Oh, and I also have to mention that this Quinoa Enchilada Skillet is ideal for meal prep lunches. It's one of those glorious recipes that tastes even better after a day or two in the fridge!
Ingredients:
1 large uncooked sweet potato, peeled and cubed
5 cloves of garlic, minced
1 cup uncooked quinoa, rinsed and drained
2 cups vegetable broth
1 teaspoon ground cumin
1/2 teaspoon paprika
1 teaspoon chili powder
salt & pepper to taste
1 cup enchilada sauce
1 15- oz. can black beans, drained
1/2 cup corn kernels
1 14 oz. can diced tomatoes, drained
1 1/4 cup vegan shredded cheese
Optional toppings: avocados, vegan sour cream/vegan greek yogurt on top, parsley for garnish