Honey Mustard Chicken Bites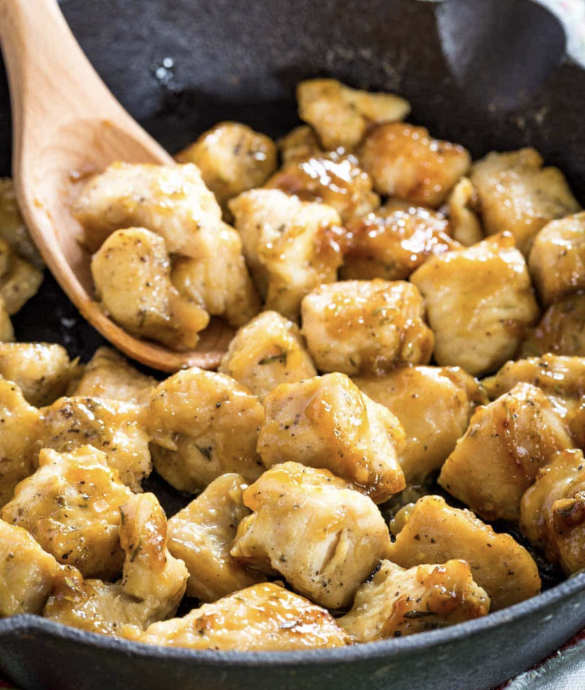 Forget greasy fried chicken nuggets. It is so fast to make healthy Honey Mustard Chicken Bites in a skillet, and kids and adults will love the sweet and tangy Dijon glaze. You only need a few simple ingredients and less than 20 minutes to make these the highlight of a quick and easy dinner! You can't go wrong with easy chicken recipes for dinner. Especially ones that are this fast, healthy, and super yummy. Yes, this bite-sized chicken is so good, the kids might even forget about their usual chicken nuggets.
Getting a nice sear on the chicken keeps it tender. And coating it in a tangy and sweet honey mustard glaze makes it absolutely mouthwatering and irresistible. Plus it is naturally gluten free without having to buy any special (read: expensive) ingredients.
Made with simple ingredients you probably already have on hand, this budget-friendly dish comes together in under 20 minutes from start to finish. Then you can pair it with something as simple as baked fries and frozen veggies. Pile the chicken bites on a salad. Or spoon it on top of a rice bowl or even some cheesy quinoa.
Ingredients:
2 Tablespoons honey
1 Tablespoon Dijon mustard
1 Tablespoon apple cider vinegar
1-1 1/2 pounds boneless skinless chicken breasts
1/2 teaspoon kosher salt
1/2 teaspoon black pepper
1/4 teaspoon garlic powder
1/4 teaspoon dried thyme
1 Tablespoon olive oil