Shrimp Guacamole Bites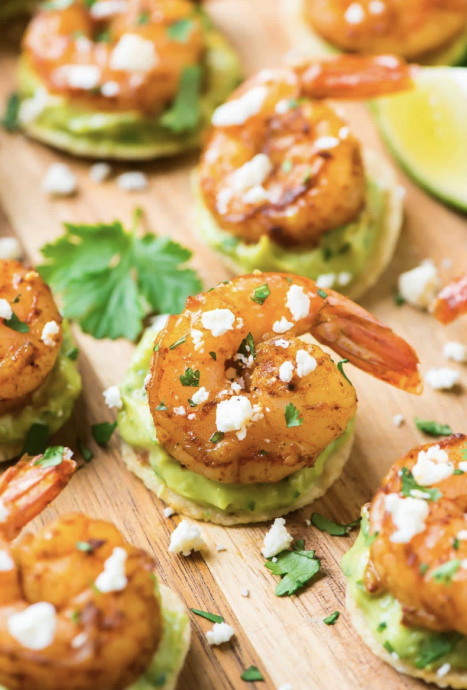 During the summer, my definition of "lunch" becomes a little fuzzy. On a relaxed afternoon of grazing and potlucking, I can happily, chip, dip, and Shrimp Guacamole Bites my way to a full meal.
Come to think of it, the same phenomenon (appetizers, chips, and dip sneakily counting as a main course) happens at football season. And the holidays. I'm sensing a theme here. Appetizers all around!
These spiced shrimp guacamole bites are one of my favorite party munchies. They combine an appetizer classic of which I will never grow weary (chips and guac) with an easy upgrade (five-minute chili roasted shrimp) to create a whole new experience. They're salty, crunchy, creamy, and juicy all at the same time.
They also happen to be one of your favorite munchies! I developed the recipe for these shrimp bites a few years ago. They've remained a reader favorite since, so I thought it was time for a little photo refresh, and I added a recipe video too.
Ingredients:
1 pound raw large shrimp 25–30 count, peeled and deveined, about 28 shrimp total (I bought mine frozen, then thawed them in a bowl of warm water)
2 teaspoons extra-virgin olive oil
1 1/2 teaspoons chili powder
1/2 teaspoon cumin
1/4 teaspoon smoked paprika
1/4 teaspoon kosher salt
1 cup prepared guacamole I used Sabra Spicy for an extra kick
2 tablespoons fresh lime juice
1 tablespoon chopped fresh cilantro plus additional for garnish
Bite-sized round corn tortilla chips 1 per shrimp
Crumbled feta cheese or queso fresco for serving