Best Cobb Salad Recipe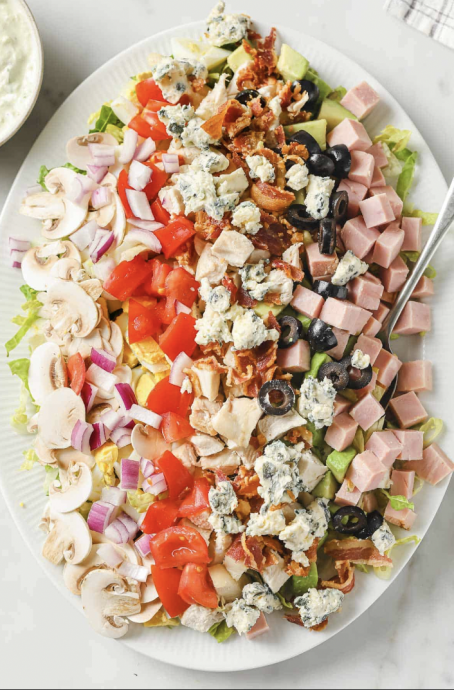 This is simply the Best Cobb Salad Recipe. It is the perfect summer salad. Tender, juicy chicken, smokey ham and bacon, avocado, tomatoes, hard-boiled egg, blue cheese crumbles, olives, mushrooms, and red onions, all arranged on a bed of romaine lettuce and then tossed with Avocado Ranch Dressing.
Traditionally a classic Cobb salad is served with red wine vinaigrette, made with red wine vinegar, lemon juice, dijon mustard, garlic, olive oil, and fresh herbs like oregano. But you will also commonly see it served with blue cheese dressing.
Ingredients:
1 large head romaine lettuce, shredded
½ pound chicken breast, cooked and cubed small
1 cup diced ham
6 strips bacon, cooked crisp and crumbled
2 hardboiled eggs, chopped
1 medium tomato, seeded and chopped
1 avocado, peeled and chopped
¼ cup sliced black olives
4 small button mushrooms, thinly sliced
½ cup crumbled blue cheese
¼ cup chopped red onion
Avocado Ranch dressing, for serving