Caramel Coconut Cream Pie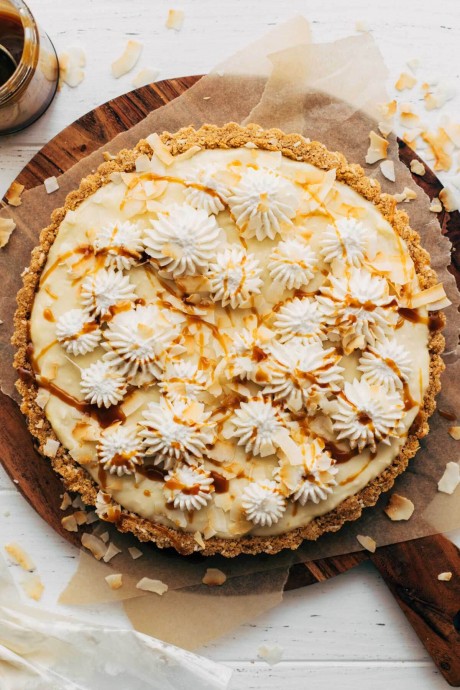 This coconut cream pie is a step up from any traditional recipe. It's set with a layer of homemade caramel and rests in a toffee-like coconut graham cracker shell. The classic creamy coconut filling is enriched by a flavorful but thin layer of caramel, giving it a unique twist. It's an unexpected pairing that just works! This recipe can also be made as a thick pie or a thin tart shown here.
Unlike a traditional recipe that's all one note, this pie is rich, creamy, and has a medley of different textures and flavors. Here are the three main components that make it so unqiue: The Crust – The base is a coconut graham cracker crust that has a slight chew and deep flavor. In contrast to dough-based pie shell, this one is much easier to make and packs so much more depth and texture. The Caramel – This thin layer sits at the very bottom of the pie. It doesn't overpower the coconut, but rather accompanies its light coconut flavor with a dark and rich note. It also provides a bit of chewiness and gooiness to this pie. The Coconut Filling – The filling has SO much coconut flavor because it's made with coconut milk, coconut oil, coconut extract, and sweetened shredded coconut. It's creamy enough to have a super silky consistency but firm enough to hold together with each slice. Trust me, you've never had a coconut cream pie like this one.
This pie is best served chilled, after it's had at least 4 hours in the refrigerator. When slicing, make sure to use a sharp knife and apply some extra pressure when you get to the crust. To store, cover in plastic wrap or place in a pie case and keep it in the refrigerator for up to 5 days.
Ingredients
Coconut Graham Cracker Crust:
3/4 cup (70g) sweetened shredded coconut
1 1/2 cups (140g) crushed graham crackers
2 tbsp granulated sugar
2 tbsp light brown sugar
1/2 cup (110g) unsalted butter, melted
Caramel:
1/2 cup (100g) granulated sugar
1/3 cup (80ml) heavy cream
4 tbsp unsalted butter, sliced and room temp
1/4 tsp salt
Coconut cream:
2 large egg yolks
1/2 13.4 fl oz can full fat coconut milk*
1 cup (250ml) whole milk
3 tbsp cornstarch
1/3 cup (75g) granulated sugar
1/4 tsp salt
1 tsp vanilla extract
1/2 tsp coconut extract
2 tbsp melted coconut oil
1/2 cup (50g) sweetened shredded coconut
Whipped cream:
3/4 cup (185ml) heavy cream, chilled
2 tbsp powdered sugar
Toasted coconut flakes (optional topping)