Italian Biscotti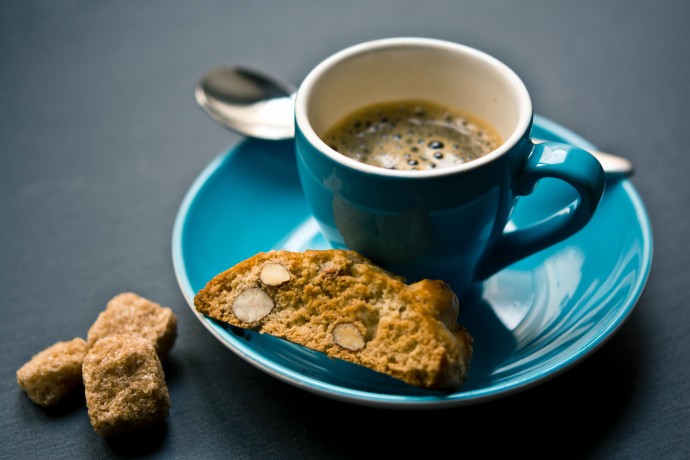 Photo by Jonathan Pielmayer on Unsplash
When it comes to Italian food, some dishes are way more famous than others: gnocchi, pesto, pizza, pasta for sure but also sweet treats like tiramisù or biscotti. Traditional Italian biscotti. Simple and great tasting – I'm sure it will quickly become one of your favorites.
Biscotti di Prato, or cantucci — to give them their full name—come from Prato in Tuscany. There, the cookies have a more rustic appearance, made without any oil or butter and cooked to a golden brown, then cooled slightly and rebaked to increase not just their crunch, but also their shelf life. These cookies aimed to be dipped into a hot, bitter espresso coffee or a sweet caffe latte, but the Tuscans prefer them dunked into Vin Santo, a sweet after-dinner wine famously made by monks but any sweet wine will work as well.
They are truly easy to cook, do not require any special equipment, and you can simply control the amount of sugar and the flavors. When stored in an airtight jar or box, biscotti will keep for several weeks.
I love Biscotti for breakfast. They are not too sweet and very satisfying. Just perfect with a cup of coffee. Today I am happy to share my favorite authentic recipe of biscotti with you.
Ingredients
1 cup of sugar
1/2 cup unsalted butter, melted
3 tablespoons brandy (Amaretto, Frangelica, rum or other liquor can be substituted)
1 teaspoon vanilla
1 teaspoon almond extract
1 cup coarsely chopped almonds (blanched)
3 eggs
3 cups flour
1 1/2 teaspoons baking powder
1/4 teaspoon salt
Directions
Step 1. Preheat oven to 350°. Mix together the first five ingredients. Add nuts and eggs and mix well
Step 2. Stir in flour mixed with baking powder and salt. Shape into a long loaf. Bake at 350 degrees for 30 minutes or until slightly hardened and golden brown. Remove from oven and let and cool until loaf is comfortable to handle (approx. 30 min) Turn oven down to 325 degrees.
Step 3. Once cooled, place loaves on cutting board and carefully cut with a serrated bread knife on a slight diagonal into 3/4 inch slices.
Step 4. Return to oven and bake for 15 minutes more. Turn each slice over and bake another 15 minutes. Biscotti should look toasted on each side
Frost the biscotti with melted semisweet chocolate or canned frosting. For extra goodness, dip one end of the baked Biscotti in a sweet topping such as rich caramel and dusted with coarse salt.
Cool completely, then store in an air-tight jar.
Substitute 3/4 cup of chopped pecans and another of dried fruit (cranberries or cherries or apricots) then substitute appropriate liquor such as Cherry Herring or Apricot Brandy for the brandy.
Make up your own combination. A few suggestions that won't compromise the cookies too much: substitute the chopped almonds for chocolate chips, or dried mixed fruits, pieces of dried apricots or figs.
Store the biscotti in an airtight container at room temperature for up to 2 weeks.