Basic + Awesome Broccoli Cheese Soup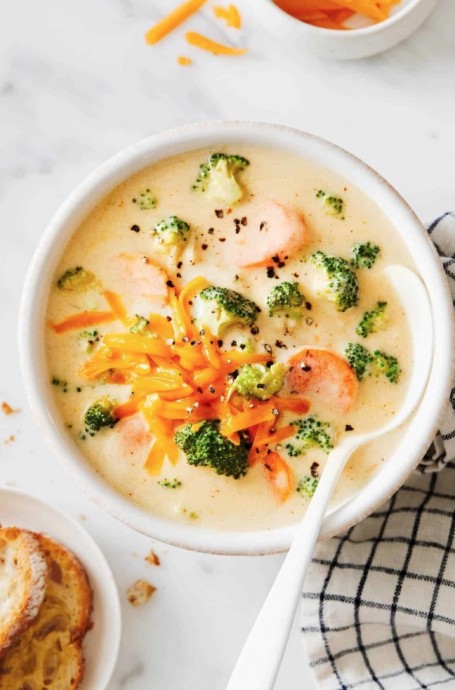 This Broccoli Cheese Soup is easy, creamy, and a perfect cozy classic. A silky-smooth soup base, little bites of just-right broccoli and carrots, and some sharp creamy cheddar cheese to finish it off.
I would like to campaign for you to enter into fall soup season with this cozy classic Broccoli Cheese Soup. It is a hug-in-a-bowl that is not only *easy to make* but honestly puts Panera's version to shame. Ooooh yes, I said it! Listen, I truly love Panera, but side-by-side with this comforting pot of creaminess gently bubbling away on the stove, with the FRESH broccoli and carrots, and the glorious cheddar cheese.
Ingredients:
5 tablespoons butter, divided
1 small onion, minced
3 cloves garlic, minced
1 cup broccoli stems, chopped (optional)
1/4 cup all-purpose flour
1 cup whole milk
1 cup half and half
2 1/2 cups chicken or vegetable broth
2–3 cups broccoli florets, chopped into very small pieces
1 large carrot, thinly sliced
1 teaspoon salt (more or less to taste)
1/2 teaspoon freshly ground black pepper
1/2 teaspoon paprika
an 8-ounce block of good quality extra-sharp cheddar cheese, grated