Easy Cannoli Recipe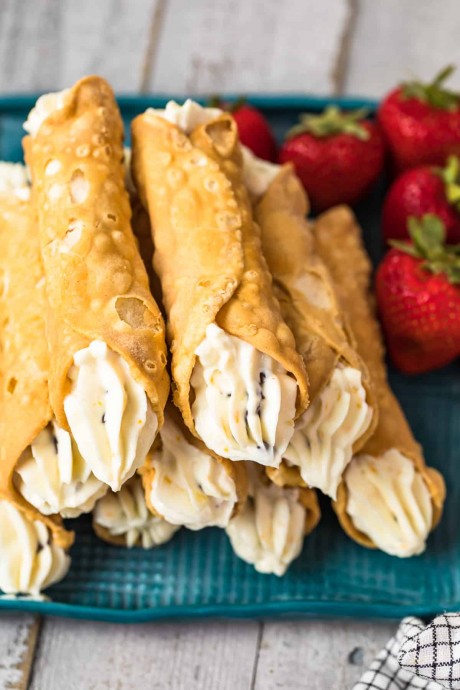 A super delicious and super Easy Cannoli recipe, with only a handful of ingredients needed! A creamy ricotta filling, encased in a crispy golden cannoli shells, top them with whatever your heart desires!
A Cannoli is a type of pastry that comes from Sicily. Most cannoli consist of – tube-shaped – deep fried pastry shells. They are filled with a slightly sweet and creamy filling, usually made with ricotta cheese.
These beauties come together so easily, only a handful of ingredients needed. The creamy cannoli filling is divine and provides that perfect counterpoint to the crunchy cannoli shells. The filling can be whipped up in a flash, it's light with a zest of orange and packed with chocolate chips. This Easy Cannoli recipe plays well with lots of toppings – you can really have fun! You can dip the ends into chopped pistachios or other nuts, mini chips, melted chocolate even sprinkles would be great and add a pop of color.
These gorgeous golden tubes of loveliness are so simple to make but look like they should adorn a patisserie shop window. Perfect for parties, after dinner, before dinner, during dinner…whenever!
Ingredients:
1 pound whole-milk ricotta cheese
2/3 cup granulated sugar
Zest of ½ medium orange
½ teaspoon pure vanilla extract
1½ tablespoons finely chopped candied ginger
¼ cup semisweet miniature chocolate chips
8 5-inch cannoli shells or mini cannoli shells