Pepperoni Pizza Penne Pasta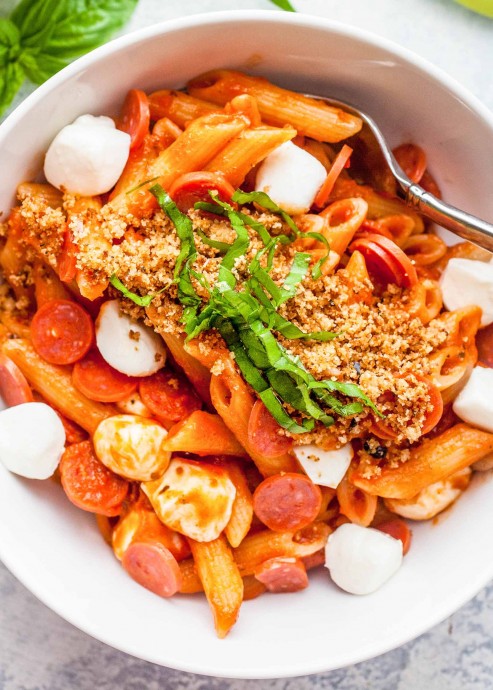 Can you imagine pepperoni pizza, but as pasta? Kid-friendly, and parents can add some extra spice to their bowls with a crunchy breadcrumb topping. Sometimes it's a good idea to introduce flexibility and creativity to mealtimes by preparing familiar flavors but in a different format—such as this Pepperoni Pizza Penne!
What kid doesn't love pepperoni pizza, right? And this has all the normal flavors of a classic, simple, kid-friendly pepperoni pizza, but with pasta instead. Believe it or not, getting kids used to seeing foods in unexpected meals is a big step toward getting them to be adventurous eaters. This recipe takes a baby step in that direction with the benefit of being superfast to make.
Serve this pasta (all parts included) with a side salad and a big sprinkle of the Crispy Breadcrumb Topper, and your kids very happy with it. If you have any leftovers, you can bake them the following night into a small pasta casserole!
Ingredients:
12 ounces penne pasta
1 cup marinara sauce, homemade or store-bought
1/2 teaspoon dried oregano
4 ounces mini pepperoni
8 ounces mini mozzarella balls
Basil chopped, garnish
2 tablespoons butter
1/2 cup breadcrumbs
1/4 teaspoon red pepper flakes
Pinch of salt and pepper