Keto Chocolate Cheesecake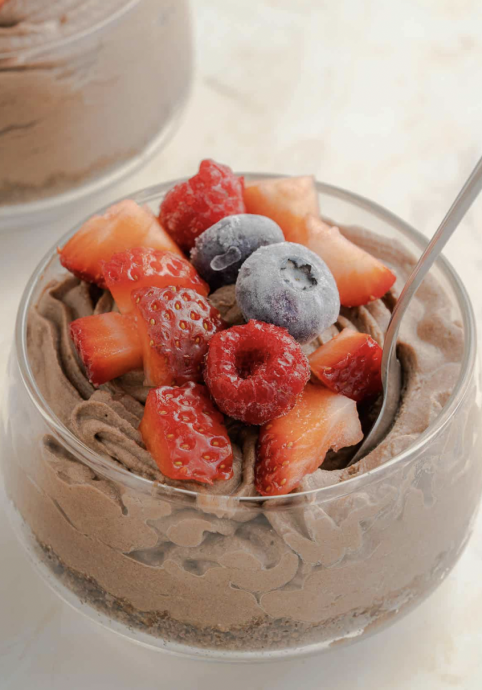 The indulgent Keto Chocolate Cheesecake (no bake) is a crowd favorite. It's creamy, rich, and absolutely delicious. Best of all, this low carb dessert is loaded with flavor and made with just 6 ingredients and requires no cooking. You can be enjoying this is as little as 15 minutes.
Storage: Store leftover Keto Chocolate Cheesecake recipe in the fridge for up to 5 days.
Make it dairy free: You can make this dairy free by swapping out the cream cheese for a nut based cream cheese, the butter for butter flavored coconut oil, and the heavy cream for a canned full fat coconut milk. Make sure that you store the coconut milk in the refrigerator for up to 24 hours before using.
Toppings: You can top this low carb chocolate cheesecake with fresh fruit, frozen fruit, whipped cream, melted chocolate, sugar free chocolate chips, nuts, shaved coconut, low carb cookies, you name it!
Cream cheese: Let the cream cheese soften at room temperature for a smooth and silky texture.
Peanut Butter: Mix in a little peanut butter make this a keto chocolate peanut butter cheesecake.
Ingredients:
for the crust
1 cup blanched almond flour
2 tablespoons melted butter
2 tablespoon unsweetened cocoa powder
for the chocolate cheesecake
16 ounces cream cheese, softened
½ cup powdered sweetener
1 teaspoon vanilla extract
3 tablespoon unsweetened cocoa powder
1 cup heavy cream
optional garnishes
Mixed berries
Chocolate chips
Whipped cream
Nuts