Breakfast BLTs with Spicy Mayo and Arugula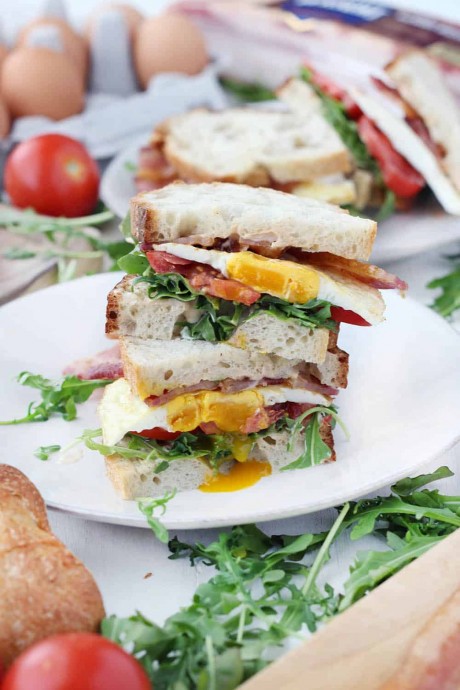 Try a slightly new interpretation of the classic BLT with spicy mayo and arugula. Anything is breakfast if you put an egg on it, right? Right. You can cook the bacon up to one day ahead. Tomatoes can vary in size, so use your judgment: If your tomatoes are small, add a slice or two more.
Do you like BLT sandwiches? I've been mad for them as long as I can remember. But I never thought to sub out the lettuce for arugula until my mother brought home an arugula BLT from a local bistro. So good! The spiciness of the arugula is wonderfully countered by the fatty smokiness of the bacon. If you don't have arugula available (also known as rocket) you can use watercress. I wilted the greens in a little bacon fat just to make it easier to pack more into the sandwich.
This Breakfast BLT Sandwich has the most perfect fried egg on it and a liberal amount of thick-cut bacon, spread with spicy mayo and with peppery arugula as a substitute for traditional lettuce. These Breakfast BLTs with Spicy Mayo and Arugula are piled high with thick-cut bacon and a perfectly fried egg! Bake the bacon in the oven to easily make these for a crowd.
Ingredients:
4 slices bread
1/4 cup mayonnaise
a few dashes of your favorite hot sauce
2 eggs
1 tablespoon butter
6 slices bacon cooked, preferably thick-cut
1 cup baby arugula
1 medium tomato sliced