Rosemary Roasted Root Vegetable Panzanella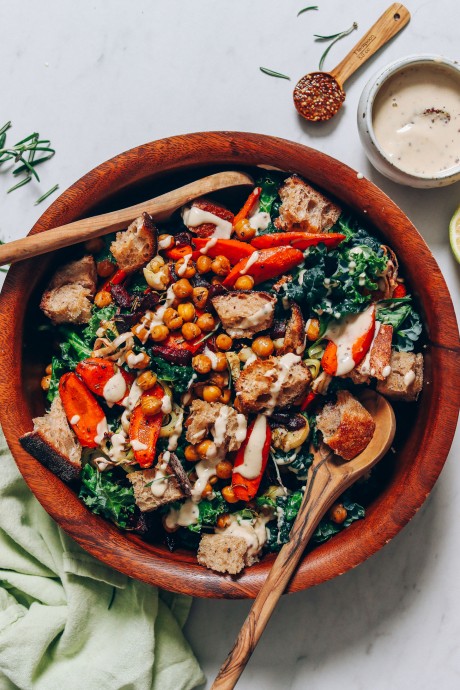 If you've never tried panzanella, you're in for a treat! Greens are tossed with a medley of fall vegetables, jumbo sourdough croutons (yes, we said jumbo), and tangy-sweet, grainy mustard dressing. Just 30 minutes required for this deceptively wholesome comfort meal. Panzanella is a bread salad that's believed to have originated in Tuscany, Italy. And it may have been invented by peasants as a way to use up stale bread.
The earliest written recipes date back to the 14th and 16th centuries. And while these early versions were heavier on the onions, tomatoes became a more central ingredient by the 1900s.
This version is not traditional but is inspired by the concept of revitalizing stale bread with dressing and root vegetables.
You can use roasted root vegetables to bring out their sweetness and infuse them with fresh rosemary for herby aroma. And for greens, we went with kale for its hearty texture and availability during the colder months. To add more texture, carbs, fiber, and protein, we opted for chickpeas and a hearty sourdough bread. A vinaigrette dressing is most common with panzanella. But try a tahini-based dressing for added nutrients and creaminess. Plus, kale + tahini = magic! You will love this Panzanella, as it's satisfying, colorful, savory-sweet, garlicky, customizable and so delicious!
Ingredients:
3 cups peeled, chopped root vegetables (such as beets, carrots, or sweet potato)
1 medium leek, halved, rinsed clean, and chopped into 1/4-inch slices
1 Tbsp avocado or olive oil
1 healthy pinch each salt and black pepper
2 sprigs fresh rosemary, chopped (or sub dried)
1 15-ounce can chickpeas, rinsed and drained and patted dry with a towel
1 Tbsp avocado or olive oil
1 healthy pinch each salt and black pepper
1 sprig fresh rosemary, chopped (or sub dried)
5 cloves garlic, crushed or roughly chopped (optional)
2 cups day old sturdy bread, cubed (such as sourdough // if gluten-free, use gluten-free bread or omit)
1 tsp avocado oil
1 healthy pinch each salt and pepper
1/4 cup tahini (cashew butter could also work here, or sub olive oil to make it more of a vinaigrette)
1 ½ tsp whole grain mustard
2-3 Tbsp lemon juice (~1 large lemon)
1 tsp apple cider vinegar
2-3 tsp maple syrup
1 healthy pinch each salt and pepper
2-4 Tbsp water to thin
1 large bundle kale, torn into bite-size pieces, large stems removed (1 large bundle is ~200 g)
2 Tbsp lemon juice (optional)
1 pinch each salt and pepper (optional)