Peanut Butter Cheesecake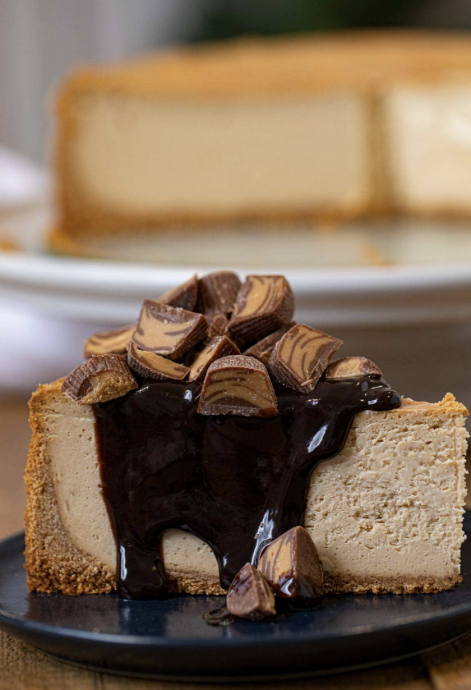 Chocolate Peanut Butter Cheesecake is your new favorite cheesecake recipe! Baked peanut butter cheesecake with a chocolate ganache and peanut butter cups. Chocolate and peanut butter are delicious on their own, but combine them and you get one of the most loved flavor combinations. Add in a creamy cheesecake and that's where the real magic begins. Whether you are a chocolate lover, a cheesecake lover, or a peanut butter lover, this dessert has something crave-able for everyone!
Any truly decadent, classic cheesecake is a labor of love but one bite of this Chocolate Peanut Butter Cheesecake makes it all worth it. Plan about 6 hours from start to finish for a perfectly firm yet creamy cheesecake. Save yourself the stress and worry about the cheesecake layer setting by preparing this dessert the night before an event.
Ingredients:
Graham Cracker Crust
1 1/2 cups graham cracker crumbs , 12 full crackers
1/3 cup sugar
6 tablespoons unsalted butter , melted
Cheesecake Filling
32 ounces cream cheese , softened
1 cup peanut butter
4 large eggs
1 1/2 cups brown sugar , packed
1/2 cup whole milk
1/2 cup sour cream
2 teaspoons vanilla
Topping
2 cups Chocolate Ganache , recipe
1 cup peanut butter cups , chopped