Classic Crab Roll Recipe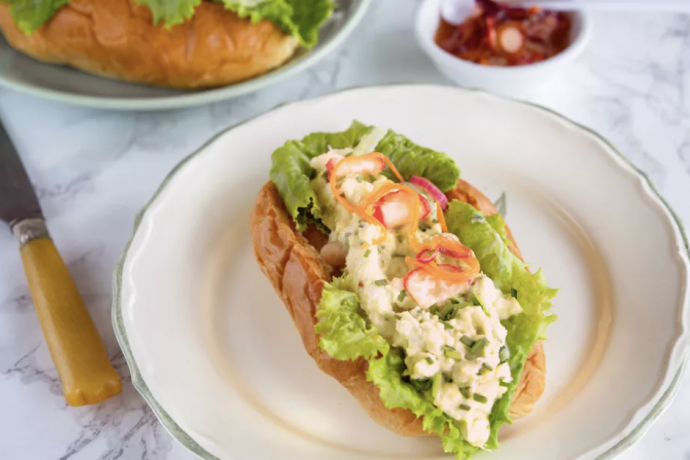 This classic crab roll will be a showstopper at your summer barbecue, picnic, or even just a simple lunch. Less tedious to make than its more famous counterpart—the lobster roll—a crab roll is every bit as sweet, succulent, and hearty. We like to infuse the mayonnaise with lemon juice and zest for a citrusy kick to cut the richness of the shellfish and mayonnaise. In addition, you can top these rolls with fresh homemade seasonal vegetable pickles (whatever's at the market will be perfect) because they complement the filling so wonderfully. Cider vinegar adds rich, fruity acid, but any type of vinegar you use for quick-pickling will work well.
Crab is such a delicious, versatile shellfish to cook with at home and is especially good fresh. Fresh crab is typically easy to find pre-shelled in refrigerated cans at well-stocked fish markets. You can buy it frozen, as well—either will work well in this recipe.
Ingredients:
For the Pickles:
1/2 cup apple cider vinegar
1/2 cup superfine sugar
1/2 teaspoon kosher salt
1 carrot, shredded
1/2 red onion, or scallions, thinly sliced
1/2 cup thinly sliced radishes
For the Mayonnaise:
1/2 cup mayonnaise
1 lemon, zest finely grated, and juiced
1/2 teaspoon Tabasco, or other hot sauce
For the Rolls:
4 brioche hot dog rolls, or regular hot dog or sandwich rolls
12 ounces lump crabmeat
3 tablespoons minced fresh chives
Kosher salt, to taste
Freshly ground black pepper, to taste
4 to 8 leaves lettuce