Salted Caramel Chocolate Cake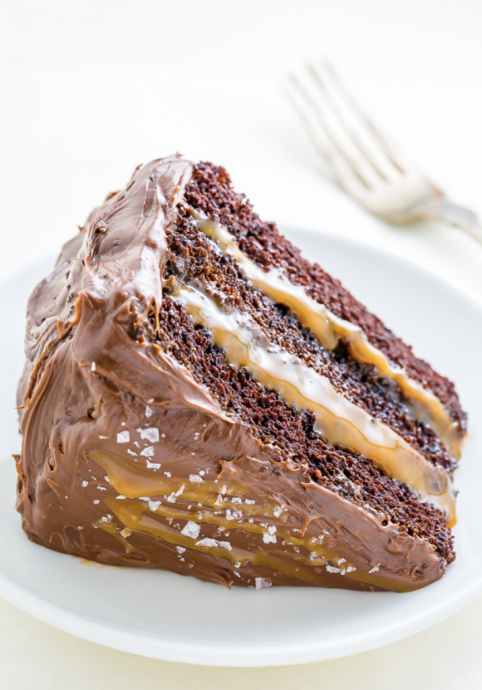 This Salted Caramel Chocolate Cake is moist and sinfully decadent! So if you love chocolate and caramel, you'll LOVE this easy recipe for how to make Chocolate Caramel Cake! Tips and Tricks for Recipe Success:
This recipe calls for vegetable oil, but you can use an equal amount of canola oil or melted coconut oil in its place. I do not recommend substituting oil with butter.
For best results, make sure your eggs, egg yolks, sour cream, and milk have all come to room temperature before you begin baking.
When you measure your flour, be sure you're not packing it into the measuring cup. Packed flour will yield a dense and dry cake.
The cake layers should all be baked on the middle rack of your oven. If there's not enough room in your oven to bake them all in an even row at once, simply bake them in two batches.
For the frosting, you'll want to make sure your butter is VERY soft before creaming it.
The chocolate cakes should be completely cool before adding the frosting and salted caramel.
The assembly is a two part process: you'll place one cake level on a large plate, top it with a thin layer of frosting, then add the caramel, then add another cake level and repeat. Once you've added the final cake level you'll want to leave the top bare and place the cake in the fridge to set for one hour. Once it's set, you can finish frosting.
Ingredients:
For the chocolate cake:
2 cups granulated sugar
1 cup light brown sugar, packed
2 and 3/4 cups all-purpose flour (not packed!)
1 and 1/2 cups unsweetened cocoa powder, sifted
3 teaspoons baking soda
1 and 1/2 teaspoons baking powder
1 and 1/4 teaspoons salt
3 large eggs + 2 large egg yolks, at room temperature
1 and 1/2 cups full-fat sour cream
1/3 cup whole milk
3/4 cup vegetable oil (you may also sub in melted coconut oil)
2 tablespoons vanilla extract
1 and 1/2 cups hot water
For the salted caramel chocolate frosting:
2 cups unsalted butter (4 sticks, 16 ounces), VERY soft
4 and 1/2 cups confectioners' sugar, sifted
3/4 cup unsweetened cocoa powder, sifted
1 teaspoon vanilla extract
1/2 teaspoon salt
3 tablespoons heavy cream (more if needed)
2 tablespoons salted caramel sauce