California Roll Sushi Bowls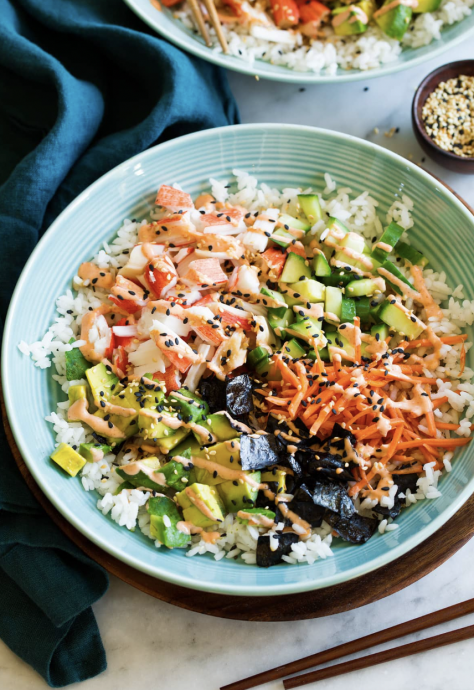 California Roll in layered bowl form! These are the simplified way to enjoy all the flavors of a California roll in a fraction of the time! You get a hearty bowl of sushi rice layered together with so many delicious flavors and textures. Who could resist?
How could you go wrong with deconstructed sushi piled high in a bowl? It's destined to be a new go-to weeknight recipe for you!
You get a slightly sweet, slightly tangy, tender sushi rice and atop is a blend of crab (or imitation crab), crisp fresh veggies including carrots, cucumber, and buttery avocado. Then there's also umami-rich nori, flavorful pickled ginger, a salty soy finish, creamy and spicy sriracha mayo, then buttery little sesame seeds to finish it off with more texture.
Talk about explosion of flavor in every bite!
Ingredients:
2 cups dry California Calrose Sushi Rice
5 Tbsp rice vinegar , divided
2 Tbsp granulated sugar
1/2 tsp salt
1/4 cup light mayonnaise or regular mayonnaise
1 1/2 Tbsp sriracha
1/4 cup low-sodium soy sauce
10 oz imitation crab or lump crabmeat , torn or chopped into small bite size pieces
1 1/2 cups diced English cucumber
3/4 cup roughly chopped matchstick carrots
1 nori sheet , chopped or crumbled into small pieces (add more if you'd like)
1 1/2 Tbsp chopped pickled sushi ginger
1 large avocado , peeled and diced
Black and toasted sesame seeds , for garnish