Ice Cream Sandwiches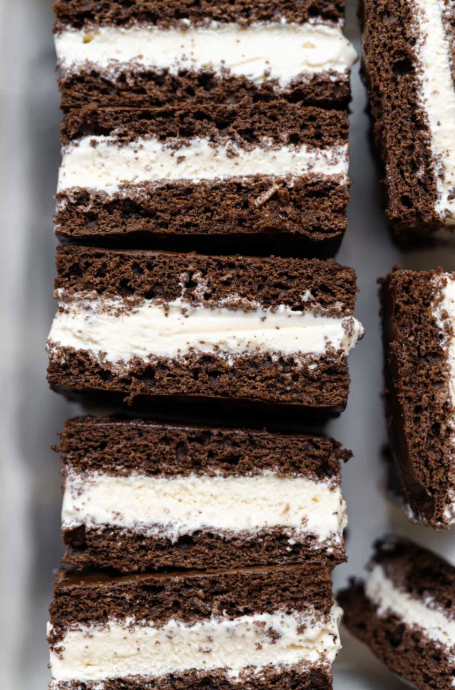 Ice Cream Sandwiches are a classic frozen treat with a chocolate cake-like outside and vanilla ice cream inside. This homemade recipe is easy and delicious!
It's hard to think of a better summer dessert than a delicious Frozen Treat. There's nothing more refreshing than a sweet, cold dessert. For more ice cream sandwich cake-like recipes be sure to try our Cookie Dough Ice Cream Sandwich! Classic Ice Cream Sandwiches are a nostalgic childhood favorite for so many. They are always a go-to during the hot months, and a favorite to get from the ice cream truck. The delicious chocolate outside and creamy vanilla inside are just perfection and can always satisfy a sweet tooth. We are so excited to share recipe for the ultimate homemade Ice Cream Sandwich!
You can get the best Ice Cream Sandwich experience without having to run out to the grocery store. The sandwich cake is easy, and the homemade version just makes it more fresh, chewy, and flavorful. It is easy to make this dish with store-bought vanilla ice cream, but you can also use an ice cream maker to make your own Vanilla Ice Cream for a dessert that's completely from scratch.
Ingredients:
1/3 cup unsalted butter , softened
1/2 cup sugar
1/4 cup brown sugar , packed
2 teaspoons vanilla extract
1/2 teaspoon salt
1 1/4 cup flour
1/2 cup unsweetened cocoa powder
1/2 teaspoon baking soda
2/3 cup whole milk
4 cups Vanilla Ice Cream