Chocolate Babka Bread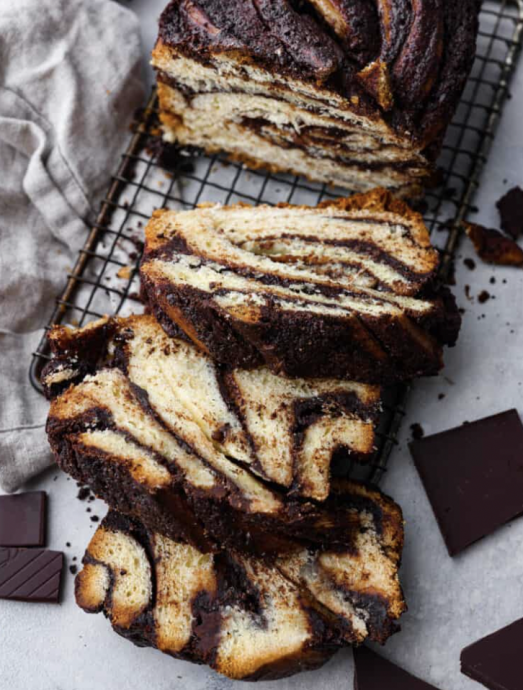 You're not going to be able to get enough of this soft, sweet babka bread filled with luscious chocolate! With its beautiful swirled interior, it looks as good as it tastes!
I'm a sucker for sweet bread. Cinnamon bread, apple bread, and strawberry quick bread are a few more of my favorite recipes that are sure to satisfy your sweet tooth! They're perfect for beginner and seasoned bakers alike! If you've never tried babka bread before, you're in for a treat! Babka is a type of braided bread that's most commonly found in Poland, Ukraine, and Israel! It's everything you would want in sweet bread- soft and moist with a delightful chew. It's similar to brioche! You can find babka with all kinds of sweet fillings, such as apple and cream cheese, but today's recipe is for chocolate lovers! A soft, sweet bread with swirls of decadent dark chocolate all throughout it.
I love making this gorgeous, swirled bread as a gift to friends and family! They'll be hooked once they get a bite of its melt-in-your-mouth chocolatey flavor. It's so good on its own. No need for toppings or spreads! The rich, fudgy filling really brings the flavor together. Trust me. This is one bread recipe you're going to want to come back to time and time again.
Ingredients:
Dough
4-4 ½ cups all-purpose flour
½ cup granulated sugar
1 packet instant yeast 2 ¼ teaspoons
4 large eggs room temperature
½ cup whole milk warm
1 ½ teaspoon salt
1 cup plus 2 tablespoons unsalted butter room temperature
Filling
½ cup salted butter melted
½ cup heavy cream
8 ounces dark chocolate high quality and chopped
⅔ cup powdered sugar
⅓ cup unsweetened cocoa powder
4 ounces bittersweet chocolate high quality and chopped
Simple Syrup
½ cup granulated sugar
½ cup water