Chocolate Cranberry Rugelach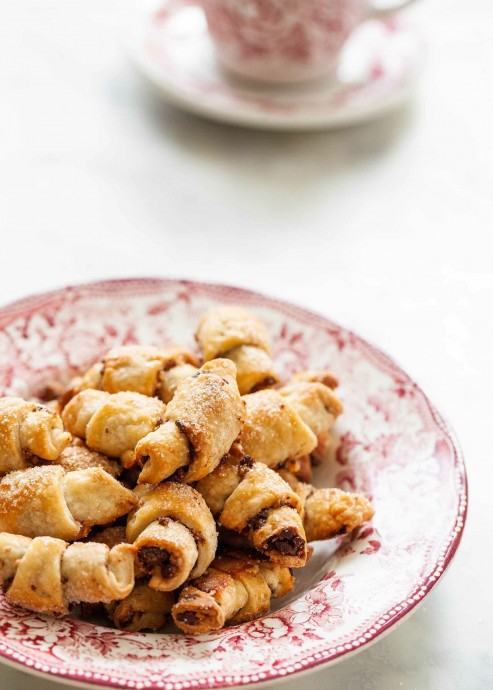 Rugelach is a classic Jewish pastry that's not at all hard to make at home. This version is full of chocolate and dried cranberries! Bonus: They freeze well and keep well!
These tiny, rich pastries with fruit, nut, and chocolate filling were a revelation to me, and today I'd like to share this recipe with you. Rugelach's origins are Jewish—the name is Yiddish for "little twists" and pronounced "RUE-geh-loch". The little rolled cookies — which are sometimes shaped as crescents and sometimes simply rolled — are commonly found in Israeli cafes. Their popularity in the U.S. has grown considerably and they are featured in many city bakeries here.
Filling variations range from apricot, raisins, cranberries and poppy seed to raspberry jam or marmalade. The barely sweetened cream cheese dough is rich, and it's just right to offset the sweet filling, which usually contains a combination of chocolate, cinnamon and nuts.
Instead of the cranberries in this recipe, you could finely chop apricots or figs, keep or skip the chocolate or add some finely chopped walnuts or almonds. You could also try a combination of chopped walnuts and raspberry jam or marmalade.
Whether you make them ahead or gobble them up immediately, you'll feel oh so sophisticated munching these dainty morsels with a cup of coffee.
Ingredients:
2 2/3 cups (325 grams) all-purpose flour
1/4 cup (30 grams) powdered sugar
1/4 teaspoon salt
8 ounces cream cheese, at room temperature
1 cup (2 sticks) unsalted butter, at room temperature
1 teaspoon vanilla extract
1 1/3 cup (160g) walnuts
2/3 cup (66g) finely chopped bittersweet chocolate (60 to 70 percent,) or 60 percent bittersweet chocolate baking chips, such as Ghirardelli
2/3 cups (113g) dried cranberries
4 teaspoons ground cinnamon
1 large egg
1 tablespoon water
4 tablespoons granulated sugar or natural cane sugar