Chocolate Waffles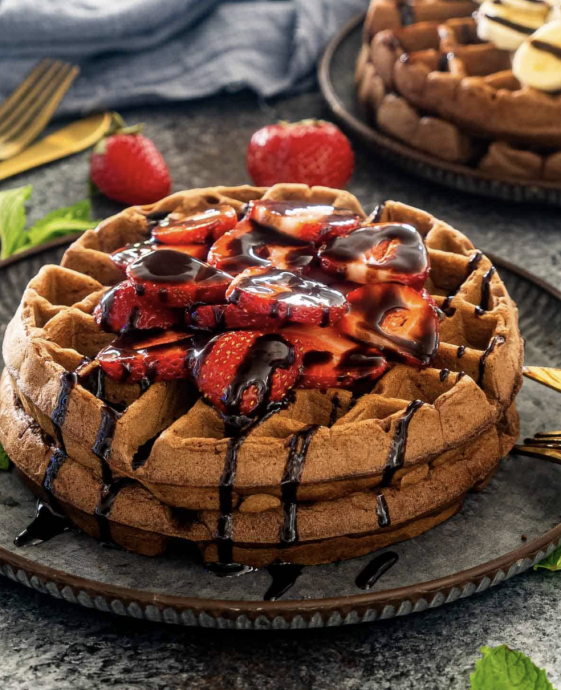 Crispy perfection on the outside, fluffy soft on the inside, and sweetened just enough to have you craving more, these divinely delicious Chocolate Waffles are amazing! You can top them with fruit and whipped cream for brunch or with ice cream and chocolate syrup for dessert! They are sure to become your new favorite versatile chocolatey sweet treat!
If you've been on my blog before you probably already know I'm a chocolate lover! But I'm also a waffle lover! In fact, I love them even more than pancakes. I know it's crazy right!?! Yet, I just love how waffles are light and crisp with each bite and have grid-like little pockets to hold all the butter, syrup, or ice cream!
So putting together this delicious and easy chocolate waffles recipe was a no-brainer in my world! I simply took all the best parts of my favorite Belgian Waffles Recipe and switched it up a bit by adding some cocoa powder to add plenty of chocolatey goodness and a pinch more sugar. Then to finish, I topped them with some chocolate sauce, freshly sliced strawberries, and creamy vanilla ice cream.
But you can top your waffles with anything you like! They are super versatile and can be served for breakfast, brunch, or as chocolate dessert waffles! One of my favorite ways to serve them for breakfast is topped with sliced banana and maple syrup. It's simple, a little more nutritious, and kids love it! Or for the adults, serve with them after dinner with some whipped cream and a Chocolate Martini for the ultimate indulgent experience.
Ingredients:
1¾ cups all-purpose flour
½ cup cocoa powder
1 tablespoon baking powder
⅓ cup granulated sugar
½ teaspoon salt
2 large eggs
2 cup milk
½ cup vegetable oil