Mango Salsa Chicken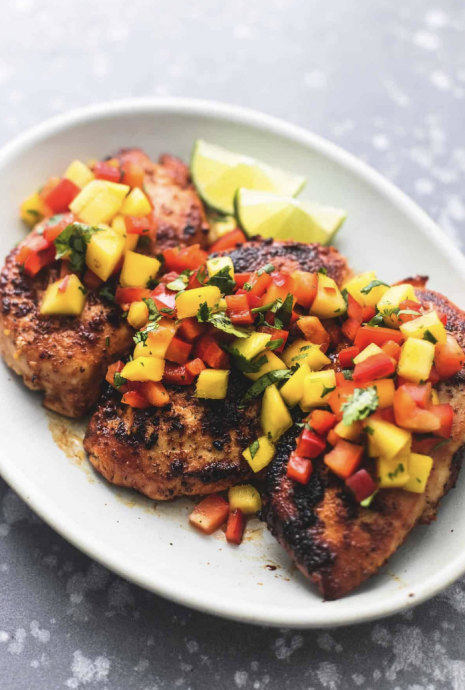 Easy, healthy and flavorful with just a few simple ingredients, this Mango Salsa Chicken will be your go-to for busy nights!
The acids in the fruits and the juices complement fish and chicken as well. It's just something about the tanginess of mango salsa with chicken in particular that just tastes divine to me. It also reminds me of summer evenings spent outside, firing up the grill and serving this mango salsa on the side of chicken or on top of tacos. Luckily, we do not only use the grill in the summers. We are year-round grillers. Though I do draw the line on sitting outside when it's cold out, we can still bring the grilled goodness of warmer months indoors and pretend it's not freezing.
You may have also notice that I might have a slight love affair with mangoes. Although they can sometimes be a pain to peel, the taste is well worth it. If you're lucky, your grocery store will sometimes also have fresh-cut mango all ready to go for you. On those days, I do a little happy dance because buying pre-cut anything only makes an already quick dinner go that much faster. And that means more time for other things — like eating and enjoying the dish.
Ingredients:
4 large boneless skinless chicken breasts - pounded to even ¾ inch thickness or less
2 tablespoons olive oil
salt and pepper - to taste
1 teaspoon cumin
1 teaspoon chili powder
1 teaspoon garlic powder
½ teaspoon Italian blend seasoning - (or make your own with dried basil, dried thyme, dried oregano)
Mango Salsa
2 mangoes
½ red or white onion - diced
1 red bell pepper, - diced
1 bunch cilantro - chopped
¼ teaspoon salt
juice of 1 lime