Black Pepper Chicken Stir Fry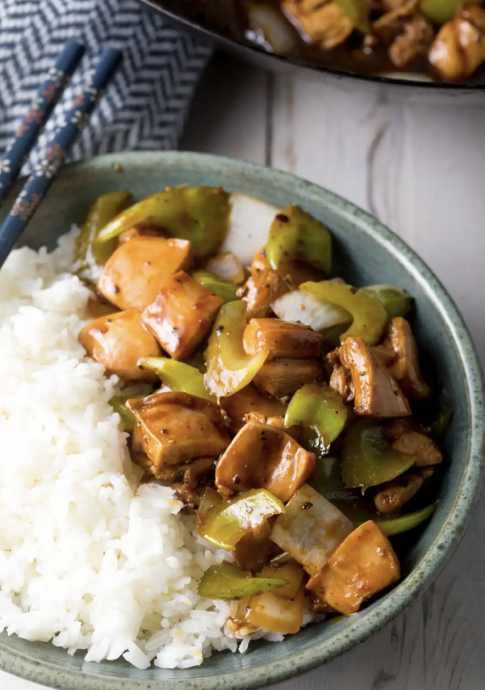 Amazing Black Pepper Chicken Stir Fry (Copycat Panda Express!) This Low Carb & Gluten Free Chinese Takeout Recipe favorite is easy to make at home, and even more delicious!
When I'm out running errands, and I'm suddenly famished, I can drive right by all the burger places and fried chicken chains… But I have a hard time passing up Panda Express.
Even though it's impractical to eat in the car. And even though some of the dishes are just as terrible for you as a burger and fries, I find myself pulling into the drive-through window, in a hypnotic state.
If you are gluten–free, you probably already know that the Panda Express restaurant chain states on their website that they offer no gluten-free food items. What a bummer!
This always baffles me, because swapping gluten-free soy sauce for regular soy sauce is all it would take, in some of their dishes.
Ingredients:
2 pounds boneless skinless chicken thighs (or breasts)
1 large onion, peeled and chopped
2 cups sliced celery, 1/3-inch cut on a bias
1/2 cup low sodium gluten free soy sauce
3 tablespoons rice vinegar
3 tablespoons cornstarch
3/4 teaspoon ground ginger
3/4 teaspoon garlic powder
1/2 teaspoon crushed red pepper
1/2 teaspoon liquid smoke
2 tablespoons peanut oil (or coconut oil)
1 tablespoon coarse ground black pepper (use a pepper mill)
1/4-3/4 cup water