Strawberry Cheesecake Ice Cream Sandwiches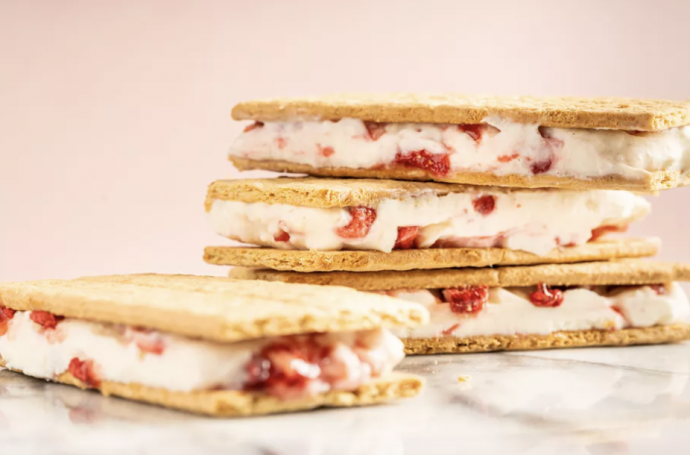 If you are a fan of the Turkey Hill Strawberry Cheesecake Ice Cream Sandwiches, you will love this easy homemade version! Just like the inspiration, these homemade ice cream sandwiches are made with blended cream cheese and a strawberry swirl between two graham crackers.
The secret ingredient here is the use of freeze dried strawberries. Freeze-drying involves first freezing the strawberries and then placing them in a vacuum under very low pressures. The water content of the strawberries is reduced but the fruit's structure is maintained. Freeze-dried strawberries are rich in Vitamin C and dietary fiber. This drying process also concentrates the fruit's sugar dramatically. The result is a sweet strawberry treat that is packed with delicious berry flavor. These freeze dried strawberries are mixed with strawberry ice cream topping and then swirled into the cheesecake mixture for the sandwiches.
The filling is simply softened cream cheese blended with vanilla flavored Greek yogurt and a dash of sugar. If you prefer to use plain Greek yogurt you can blend it with a bit of vanilla extract or vanilla bean paste. A bit of honey can be used in place of the granulated sugar as well.
Whole sheets of graham crackers are used to mimic the iconic rectangle shape of the inspiration ice cream sandwiches. If you prefer smaller treats, the graham crackers can be broken in half for ice cream sandwich squares. Feel free to experiment with your favorite flavors of yogurt, freeze dried fruit, and ice cream toppings to make your own array of ice cream sandwich treats.
Ingredients
14 whole sheets graham crackers
1/2 cup freeze dried strawberries
1/3 cup strawberry ice cream topping
8 ounces cream cheese (softened)
24 ounces vanilla Greek yogurt
3 tablespoons granulated sugar