Swiss Chard Casserole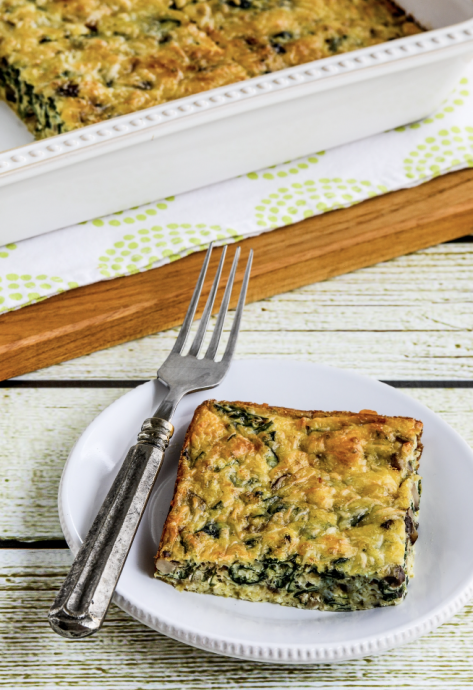 This low-carb and delicious Swiss Chard Casserole will work for breakfast, lunch, or dinner, and this meatless dish is also gluten-free. This is a leafy greens casserole I've been making for years, and it definitely has some fans.
Years ago I made this interesting Swiss Chard Casserole recipe that intrigued me partly because of the addition of a little soy sauce to the egg mixture, which gave it lots of great Umami flavor. And then I started growing Swiss Chard in my garden and kept making this recipe, adapting it in lots of different ways through the years!
Early on I replaced the breadcrumbs with hemp seeds, which made it a low-carb and gluten-free recipe, and I even went through a phase of cooking it in a mini loaf pan (see below). And for quite a few years I've been making it with a little grated Parmesan added to the top of the casserole before it goes in the oven.
Ingredients:
1 small onion, diced small
1 T minced garlic (more or less to taste)
2 tsp. + 2 tsp. olive oil
8 oz. mushrooms, diced into small pieces (see notes)
2 tsp. soy sauce (see notes)
1 large bunch Swiss chard, stems cut out and cut into thin ribbons and then chopped (see notes)
3/4 cup grated Mozzarella cheese
1/4 cup Hemp Hearts (see notes)
8 eggs, beaten (or a few more if you're using a larger baking dish)
1 tsp. Spike Seasoning
1/2 cup Parmesan