Banana Pudding Cupcakes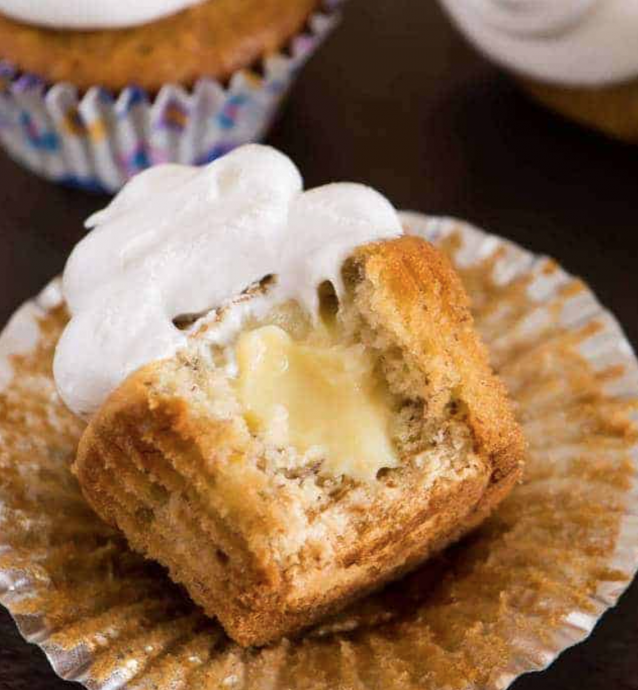 Today's Banana Pudding Cupcakes recipe was inspired by this ever so dreamy classic southern dessert.In an ode to banana pudding, a southern classic, these Banana Pudding Cupcakes feature a banana-flavored cupcake with a vanilla wafer on the bottom, filled with homemade vanilla pudding, and topped with marshmallowy 7-minute frosting. These cupcakes taste just like an old-fashioned banana pudding dessert made from scratch. If you are looking to bake something new and exciting, this cupcake recipe is the one for you!
Let me preface today's recipe by saying my absolute most favorite dessert in the entire world is a classic Banana Pudding! Not that fake banana flavored pudding in a box with sliced up bananas and cool whip smeared over the top. The double boiler homemade vanilla pudding, the warm chunks of banana and soggy vanilla wafers, the sky-high meringue, the labor of love!
These cupcakes are certain to take you back and give you a sense of nostalgia. Especially if you grew up eating cookies and banana pudding. Banana Pudding cupcakes turned out to be the best way to combine two classics and turn them into something fun and new!
Ingredients:
5 tablespoons granulated sugar
1 tablespoon cornstarch
⅛ teaspoon salt
1 cup milk
2 large egg yolks, lightly beaten
1 and ½ tablespoons unsalted butter, cut into pieces
1 teaspoon vanilla extract
15 Keebler Vanilla Wafer cookies
½ cup unsalted butter, melted
1 cup mashed ripe banana, about 2 bananas
¾ cup granulated sugar
2 large eggs
1 teaspoon vanilla extract
2 cups all-purpose flour
1 teaspoon baking powder
½ teaspoon baking soda
¼ teaspoon salt
½ cup milk
¾ cups sugar
5 tablespoons water
1 large egg white
⅛ teaspoon cream of tartar