Sausage and Cheese Croissant Breakfast Casserole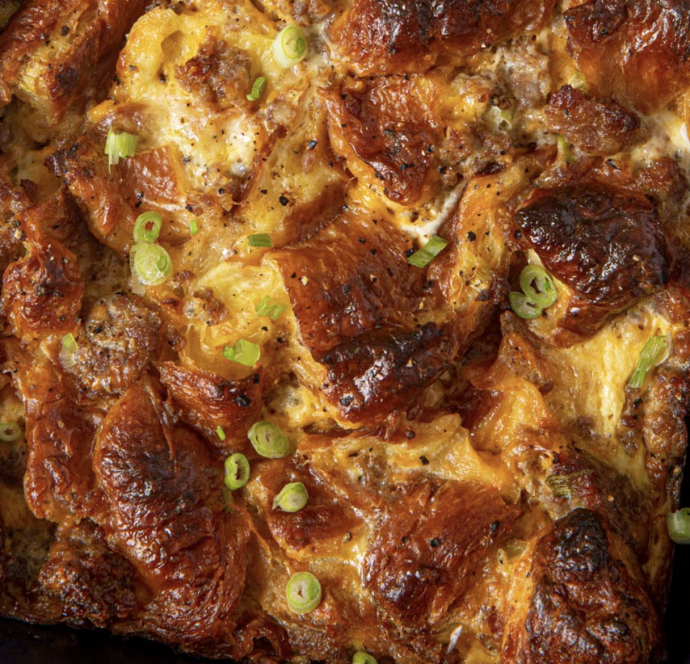 Sausage and Cheese Croissant Breakfast Casserole is a cheesy, buttery egg bake with tasty pork sausage that you need in your life! So easy and delicious!
What I'm about to say may be a bit controversial but, I believe the best breakfast sandwiches are the ones with sausage. There's something about that slightly smokiness from the meat that blends so well with melty American cheese and a soft, doughy croissant, muffin, or bun.
And this is coming from a site that puts bacon in… everything we can get away with.
We've been obsessed with making breakfast masterpieces with pork sausage, like our new twist on a fast food favorite with the Breakfast Sloppy Joes. In fact, turning a fast food classic into a quick, easy breakfast for a crowd (or for meal prep) is one of my favorite ways to spend the day in the kitchen.
This Sausage and Cheese Egg Bake has all the flavors of drive-thru favorites like the Croissan'wich but so much easier.
Ingredients:
1 pound pork sausage , remove any casing if there is any
1/2 yellow onion , chopped
8 large eggs
1 1/2 cups milk
2 teaspoons ground mustard
1 teaspoon dried thyme
2 tablespoons brown sugar
1/2 teaspoon Kosher salt
1/2 teaspoon pepper
1/4 teaspoon nutmeg
1/2 cup green onions , thinly sliced
6 large croissants , cut into 2" chunks
1 1/2 cups cheddar cheese , shredded